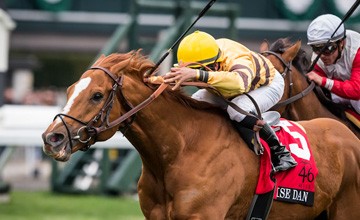 Wise Dan: earned an RPR of 124 for his last win
PICTURE:
Matt Wooley/Equiposrt Photos
Dan the man but let him strut his stuff on dirt

US Horse of the Year Wise Dan won at the weekend and frustration over his low-key campaign continued. It appears the more he wins the more he raises heckles.
The crux of the problem is that racing fans want the American champion to stop running beneath his station in weak turf races, while owner Morton Fink wants to stick with what works (a mile on turf).
The bad news for Fink is that a mile on turf only 'works' because it is the soft option. The bad news for the fans is that Fink isn't listening.
Talking to the Daily Racing Form recently the owner said he was "amused" by critics of the campaign and leading US writers have also come out in favour of the all-turf route for Wise Dan, with some laughably comparing the gelding to "specialists" like Frankel and Black Caviar.
Let's clear up that comparison straight away: US turf racing is second tier. It doesn't take a great horse to excel in that div ision and the situation is nothing like being the best miler in Europe or the best sprinter in Australia - positions which carry global significance.
Turf horses in the US have their own separate categories at the Eclipse Awards because they are a side dish. Dirt horses don't require separate awards because dirt is the main course. It's the surface everyone wants to win on; the surface they were all bred for.
Being the best turf horse in America is like being the best harness, quarter horse or show pony. It's commendable but largely irrelevant in racing circles unless you also happen to be top class on dirt.
Fortunately for Wise Dan, he is top class on turf, dirt and synthetics - and that is exactly what he built his reputation on. Not simply by being the best horse on the US turf, but by being the most versatile.
The problem with this year's campaign is that Fink has removed versatility from his offering. The owner has been gifted a palette with all the colours of the rainbow but is doggedly sticking with green for his master work.
From here on the plan is to take the same all-turf path to the Breeders' Cup Mile they plotted in 2012. "I'd say we had a decent year last year," Fink reasoned.
Whether they had a decent year is not in doubt. But that year started with three world-class performances on three different surfaces. Versatility was the horse's USP; it was what made him a star.
Since then it's been turf all the way. Connections have moulded him, whether he prefers it or not, into a horse who runs exclusively at a mile on turf - and because of this he hasn't faced a worthy opponent in four starts this year.
It's like Manchester United playing in League Two in order to always win. They would undoubtedly enjoy a perfect season, but the wins would prove they are the best only in League Two.
There is no evidence whatsoever, other than his rigid campaign, to suggest that Wise Dan is actually at his best over a mile on turf.
It may be where he has done most of his racing, but he also achieved the biggest ever Beyer on a synthetic surface when winning the Ben Ali Stakes by a wide margin (1m1f, stayed on strongly) and his Clark Handicap victory (1m1f, stayed on strongly) was awarded the highest dirt RPR of 2011.
He was defeated on his final start on dirt in the Stephen Foster Handicap (June 2012), but he came out clear best at the weights that day, having carried 4lb more than the narrow winner Ron The Greek. Again, that was one of the best dirt performances of the year.
Wise Dan is, as he was last year, potentially the best horse in the States on any surface. As such, it is his versatility that sets him apart. It is this feature that needs to be shown off. This is what critics of his campaign want to see.
Those fans who amuse Fink don't actually want to see the horse defeated or out of his comfort zone - everywhere is within this horse's comfort zone, which is his key asset. They simply want to see the horse do what he does best, which requires range.
The only common ground in the stand-off (a stand-off which can only have one winner - the man with the money) is that everyone wants to see this horse at his best.
But Wise Dan at his best can not be achieved by racing him against no-hopers on the least competitive surface in the country. It can only be achieved by taking on the best and flexing that flexibility.
Saturday's win was very much as anticipated. He travelled well, switched out and won by a length and a quarter. A winning RPR of 124 is in line with this year's form.
At his best he's a 128 performer - on any surface - but he hasn't had to show that level to win four times in the second division this season.
Over in France on Sunday there was a real turf race over a mile: the Prix Jacques le Marois at Deauville, which boasted six individual European Group 1 winners.
Two of those, Moonlight Cloud (125) and Olympic Glory (127), were separated by a short head at the line after a thrilling finish. The mare had her nose in front when it mattered.
This was Moonlight Cloud's fifth win from six starts at Deauville. She might've been perfect at the seaside track but for the trouble in running she encountered in last year's Marois, where she stayed on for a close fourth.
This is clearly her racetrack and her time to shine. She's now won four Group 1s at Deauville in August, but her form traditionally tails off after the summer months and she isn't guaranteed to repeat this performance elsewhere.
Olympic Glory on the other hand looks to be just coming to himself and an RPR of 127 represents a significant step up on his previous form.
The runner-up travelled well for much of the race but had to switch to make his run. Once a path opened he made up a good two lengths on the winner and was in front either side of the line.
Dawn Approach was unable to repeat his Duel on the Downs form just 11 days after running his heart out against Toronado, finishing a disappointing sixth.
Declaration Of War ran to a similar level in the Sussex and Marois, finishing fourth on Sunday with an RPR of 123.
TOP OF THE CLASS: Olympic Glory 127 Richard Hannon (GB) (Prix Jacques Le Marois, Deauville, 1m, August 11)
TOP LIST
| | | | |
| --- | --- | --- | --- |
| | Name (country trained) | Race | Rating |
| 1 | Toronado (GB) | Sussex Stakes | 130T |
| 2 | Dawn Approach (Ire) | Sussex Stakes | 129T |
| 3 | Black Caviar (Aus) | Lightning Stakes | 128T |
| | Fort Larned (US) | Stephen Foster Hcap | 128D |
| | Game On Dude (US) | Santa Anita Hcap | 128D |
| 6 | Al Kazeem (GB) | Eclipse | 127T |
| | Novellist (Ger) | King George | 127T |
| | Olympic Glory (GB) | Jacques le Marois | 127T |
| | Verrazano | Haskell Invitational | 127D |
| 10 | Farhh (GB) | Lockinge Stakes | 126T |
| | Gold Ship (Jap) | Takarazuka Kinen | 126T |
| | St Nicholas Abbey (Ire) | Coronation Cup | 126T |
TOP TURF PERFORMERS
| | | | |
| --- | --- | --- | --- |
| | Name (country trained) | Race | Rating |
| 1 | Toronado (GB) | Sussex Stakes | 130 |
| 2 | Dawn Approach (Ire) | Sussex Stakes | 129 |
| 3 | Black Caviar (Aus) | Lightning Stakes | 128 |
| 4 | Al Kazeem (GB) | Eclipse | 127 |
| | Novellist (Ger) | King George | 127 |
| | Olympic Glory (GB) | Jacques le Marois | 127 |
| 7 | Farhh (GB) | Lockinge Stakes | 126 |
| | Gold Ship (Jap) | Takarazuka Kinen | 126 |
| | St Nicholas Abbey (Ire) | Coronation Cup | 126 |
| 10 | Moonlight Cloud (Fr) | Jacques le Marois | 125 |
| | Orfevre (Jap) | Osaka Hai | 125 |
TOP DIRT PERFORMERS
| | | | |
| --- | --- | --- | --- |
| | Name (country trained) | Race | Rating |
| 1 | Fort Larned (US) | Stephen Foster Hcap | 128 |
| | Game On Dude (US) | Santa Anita Hcap | 128 |
| 3 | Verrazano (US) | Haskell Invitational | 127 |
| 4 | Ron The Greek (US) | Sunshine Millions Classic | 124 |
| 5 | Cross Traffic (US) | Whitney Invitational | 122 |
| | Dreaming Of Julia (US) | Florida Oaks | 122 |
| | Orb (US) | Kentucky Derby | 122 |
| | Palace Malice (US) | Belmont Stakes | 122 |
| | Royal Delta (US) | Sabin Stakes/Delaware Hcap | 122 |
| | Sahara Sky (US) | Met Mile | 122 |
TOP ALL-WEATHER PERFORMERS
| | | | |
| --- | --- | --- | --- |
| | Name (country trained) | Race | Rating |
| 1 | Game On Dude (US) | Hollywood Gold Cup | 125 |
| 2 | Animal Kingdom (US) | Dubai World Cup | 124 |
| 3 | Mental (UAE) | Al Shindagha Sprint | 121 |
| 4 | Red Cadeaux (GB) | Dubai World Cup | 119 |
| | African Story (UAE) | Burj Nahar | 119 |
| 6 | Centralinteligence (US) | Triple Bend Hcap | 118 |
| | Comma To The Top (US) | Los Angeles Handicap | 118 |
| | Goldencents (US) | Bing Crosby | 118 |
| 8 | Delegation (Can) | Dominion Day Stakes | 117 |
| 9 | Hunter's Light (UAE) | Al Maktoum Challenge R2/3 | 116 |
| | Reynaldothewizard (UAE) | Mahab Al Shimaal/Golden Shaheen | 116 |
| | Soft Falling Rain (SAF) | Godolphin Mile | 116 |