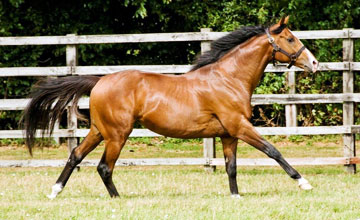 Only 13 new stallions in Ireland were registered with Weatherbys in 2010
Major fall in British and Irish stallion numbers
EVIDENCE has emerged of a major drop in stallion numbers to coincide with a sustained fall in foal crops.
Last month it was revealed that a decline described by Weatherbys executive director Paul Greeves as "quite exceptional" had seen the Irish foal crop fall by 39 per cent
and the British foal crop by 21 per cent in the last three years.
A similar pattern has evolved with stallion numbers. A 2010 'Fact Book' published this week by Weatherbys shows that the number of new stallions in Ireland fell to 13 in 2010 from 40 in 2007 (there were 20 in 2009, 33 in 2008).
Therehas also been a steady decline overall. The figures show that there were 209 'established' sires – those in their third covering season or more – in Ireland last year compared to 328 in 2007 (276 in 2009, 305 in 2008).
'Established' sires accounted for 87 per cent of the Irish stallion population, having been 85 per cent in 2009.
A sharp decline in the number of second-season sires in Ireland
was also charted, falling to 18 last year (although all 2010 stallion figures may increase as registrations are often received by Weatherbys the following year) from 43 in 2007. There were 30 second-season sires in 2009 and 29 in 2008.
The fall in stallion numbers in Britain has been almost as dramatic. While first-season sires increased to 45 in 2008 from 39 in 2007, the figure fell to just 17 last year, having been 33 in 2009.
As with Ireland, the number of 'established' sires has fallen steadily in Britain, to 210 last year from 235 in 2009, 257 in
2008, and 281 in 2007.
'Established' sires made up 84 per cent of British stallions last year compared to 77 per cent in 2009.
Second-season sires fell to 23 last year from 38 in 2009 having been 45 in 2008 and 25 in 2007. The Weatherbys Fact Book showed that the number of active broodmares in Ireland had fallen to 15,345 last yearfrom as high as 20,700 in 2007, having been 20,038 in 2008 and 18,851 in 2009.
New registrations in Ireland – fillies entering the breeding
population – had fallen to just 1,365 last year, from 1,720 in
2009, 2,248 in 2008, and 2,722 in 2007.
The number of broodmares active in Britain had slipped to 9,826 last year from 10,624 in 2009, 10,740 in 2008 amd 11,091 in 2007. Broodmare registrations in Britain had fallen to 1,266in 2010, from 1,432 in 2009, 1,351 in 2008 and 1,478 in 2007.