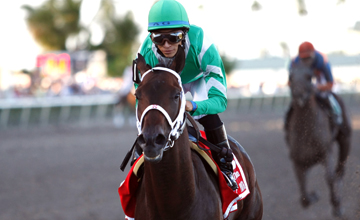 A filly by War Front, sire of Soldat, topped the first day at Ocala
PICTURE:
Joe Ganley/EquiSport Photos
War Front filly shines on first day of Ocala auction

A FILLY by War Front, whose first crop of three-year-olds includes Soldat and The Factor, topped the opening day of the Ocala Breeders' Sales Company's Spring Sale of Two-Year-Olds when selling to Jayeff B Stable for $275,000 (£169,104 /€192,924).
Consigned by Alexandra de Meric and Brandon Rice as agents, the filly attracted the praise of agent Buzz Chace, who signed for her. "She's by the right stallion and she is just a very nice, sound-looking individual," he told the Blood Horse. "It looked like there was a lot left in her tank (after she breezed). She got over the track so very well and was so nice around the barn.
"She has all the right parts. She has a beautiful shoulder and she's a strong filly with good bone. I actually thought she would bring a little more (money) than she did.
"It's a typical Ocala sale where there are a lot of nice horses going through and there are horses for everyone," Chace added. "When a real nice horse goes in, there are people here to buy it."
The sale saw 189 yearlings find buyers for turnover of $5,517,900, up 25%, and an average of $29,195, up 20.5 per cent.