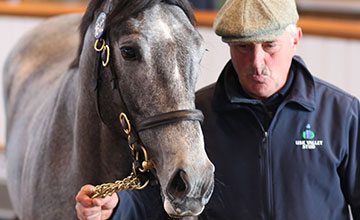 Important changes to this Bloodstock site

From early November this site will no longer be available. We've gradually been switching users over to the new version of the site, allowing you to familiarise yourself and be ready for the closure. If you haven't already visited our new Bloodstock site, now is a great time to do so.
We know that frequent users of the site will be disappointed and will want to know how they can access the valuable information they have become accustomed to. We've made sure that all the popular functions of bloodstock.racingpost.com feature on the new Bloodstock section of the Racing Post website.
The new website's main feature is its responsive design which allows users to get the best experience whether on their mobile, tablet or desktop device. We've taken the majority of the depth of data available on desktop and designed it to be easily used on a mobile or tablet device.
The new website features Bloodstock merged back into the main RACINGPOST.COM website with a Bloodstock news homepage. You'll find this in the site's main navigation.
For the first time in its history Racing Post will also be publishing all daily newspaper content onto the website, with all bloodstock content published to the bloodstock homepage within racingpost.com.
Bloodstock news, features and data have seen some great improvements as part of the redevelopment, none more so that the ability to easily read all news, features, stallion and dam profiles, full form, results, sales results and catalogues, Stallion Book and bloodstock statistics on your mobile phone, suiting the busy bloodstock user who's alway on the move.
Additional Advancements Include:
New dam and stallion profiles with full race form, removing the need to switch between dam and horse profiles and stallion and horse profiles to get all relevant race form information.
New responsive results with the ability to turn pedigree on/off.
New responsive cards allowing users to access full cards and form on mobile, tablet and desktop, with all pedigree information. To turn on pedigree information on cards, simply click Settings in the grey bar at the top of a card and then select Pedigrees ON.
New improved horse profiles that merge relatives and pedigrees into a single tab for improved usage and filterable columns on all data.
New Progeny Results on Dam and Stallion profiles, and in order to provide a faster service by default will now show the last 3 months worth of results for progeny. Use the FILTER button to change the display of the data to your preference. You can choose RACE TYPE, TIME PERIOD and MONTH.
New Progeny Entries on Dam and Stallion profiles have been split into three categories BIG RACES, FLAT, JUMPS.New Stallion and Dam profiles designs for mobile and tablet view, giving you mobile access to in-depth invaluable content.
New STALLION SALES RECORDS - Improvements now allow you to filter columns and show by regions. You can also use the display by filter to separate results by FOALS, YEARLINGS, 2YO, 3YO, 4YO and older horses and mares.
New Stallion Book designed for mobile and tablet use, with easy to use filters.
New Bloodstock Statistics sat within all central statistics. With significantly improved filters to allow users to drill down in more detail.
New International bloodstock Statistics, merged into central Horse statistics, to allow users a greater range of filters and usage.
Users can now filter by Age, First Crop,Broodmares, Hurdles, Fences, Worldwide Group/Grade 1 Winners, Going and Distance. We've replaced the column that held place summaries with stakes winner/runners figures and strike rate for Sire statistics.
We have moved GB/Irish Statistics from the bloodstock homepage to the Sire statistics page. This allowed us to remove any duplicate information.
What's moved or changed?
The new website has also taken racing and bloodstock statistics and homed them in the same section of the website, creating a Statistics hub for customers.
The Sales section is still being built as part of the new site, with a range of improvements, and will be released in May. Until then the Sales section on bloodstock.racingpost.com will be live.