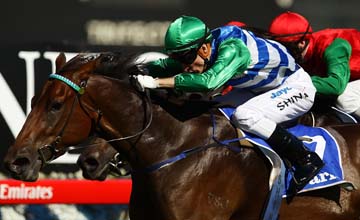 A half-brother to Melito by Redoute's Choice topped the third day
PICTURE:
Getty
Turnover down, average up on Millions third day

The third session of the Magic Millions Yearling Sale continued strongly on Friday.
The day finished with a turnover of A$57,967,500 (£38,941,403/€46,983,064) , down A$583,000 on 2011, although the average increased to A$127,684 (£85,888/€103,512) for 407 lots sold, compared to A$125,121 for 420 lots last year. The median of A$100,000 was up by 15 per cent and the clearance rate was 84 per cent.
A half-brother by Redoute's Choice to the dual Group 1 winner Melito headed the third session when bought for A$750,000 (£504,550/€608,009) bought by Melito's Sydney-based trainer Gerald Ryan from Reavill Farm.
"There's a lot to like about him," said Ryan. "He is very athletic and is a good mover. I wasn't sure whether I'd buy him or not until I saw him out the back there just before he went into the ring. I looked at him and thought - he's a good horse, just buy him, so I did.
"Melito was a top mare for the stable and she's now at stud and in foal. This bloke looks a more early type than his sister - so he could certainly be one for the race next year."
Another top purchase of the day was a More Than Ready colt out of Aqua D'Amore, bought for A$680,000 by Gai Waterhouse and her advisor James Harron.
"Today was pretty much like yesterday," said Vin Cox, Magic Millions Managing Director. "There was some spirited bidding around the complex and it's great to see the clearance rate at 84 per cent - that is quite phenomenal. We've got a lovely line up in tomorrow night's fourth session and hopefully that clearance will hold strongly."