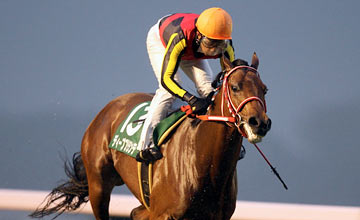 Deep Brillante: his sister was bought by Paul Fudge for 145,000,000yen
PICTURE:
Masakazu Takahashi
Deep Impact progeny light up Japanese sale

PROGENY by exciting sire Deep Impact lit-up the foal-dedicated final session of this year's JRHA Select Sale at Northern Horse Park in Hokkaido, Japan, on Tuesday.
A colt by the sire, out of the Grade 1-winning mare Sky Diva, was the day's standout lot selling to Hajime Satomi for 250,000,000yen (£2,025,277/€2,553,985).
"I felt he was surrounded by a great aura, when I saw him at Northern Farm", said Hajime Satomi the CEO of Sega Sammy Group. "He is very well balanced and I am dreaming of Derby with him now. I thought someone else might pay 300 million yen for him."
It was announced that colt is likely to be trained by Yasutoshi Ikee, who trains the 2011 Japanese Triple Crown winner Orfevre.
A sister to the Japanese Derby winner Deep Brillante also proved popular and was snapped up by Paul Fudge, of Waratah Thoroughbreds, for 145,000,000yen(£1,174,661/€1,481,311).
"I expect her to be corner-stone for my operation", said Fudge. "She is the best horse in the catalogue for me, regardless colts or filly.
"She has is full sister to Deep Brillante, the Japanese Derby winner, and she has perfect conformation. She was a bit more expensive than I thought, but I did not hesitate to keep bidding, as I understand she is very valuable as future broodmare. I have not decided yet where she is going to run. I may ship her to Europe or may keep her in Japan," added Fudge.
A foal by the outstanding King George VI winner Harbinger out of a half-sister to the Group 1 winner Careless Whisper, who was supplemented for the sale at the last minute, was worth waiting for selling to Hideko Kondo for 135,000,000yen (£1,093,650/€1,379,151).
"I knew this colt was supplemented on Sunday, a day before the opening session of sale, when I visited Northern Farm," said Kondo. "I fell in love with him at the first glance."
Gross receipts for the foal session reached 4,843,700,000yen (£39,239,352/€49,482,951), an increase on last year of just under nine per cent.
The average price was up 11 per cent on 2011 at 30,656,329yen (£248,350/€313,183) and the clearance rate was also up on 2011 at 74.9 per cent.
The total turnover for the two-day sale was 10,296,300,000yen (£83,427,360/€105,229,766), a 12 per cent increase on 2011 and the first time the gross has surpassed the 10 billion yen mark since 2007. The average over the two days was up nearly 12 per cent at 28,600,833yen (£231,742/€292.304).