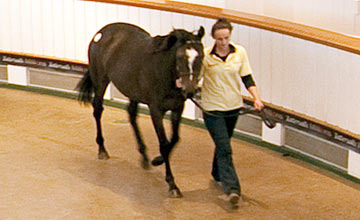 Tattersalls' best year since the pre-recession high of 2007
PICTURE:
Edward Whitaker (racingpost.com/photos)
Overseas trade helps Tatts figures defy gravity
Tattersalls' best year since the pre-recession high of 2007 finished in Newmarket yesterday afternoon following a December Sale that demonstrated the current recession-resilient nature of the top-end bloodstock market.
No less than 16 fillies and mares made 500,000gns or more this week, compared to nine 12 months ago, while four passed the million-guinea barrier, double the number in 2010.
Strong international interest in owning racehorses in Britain helped the earlier October Yearling Sale see a furious trade this autumn with the successful vendors reinvesting in foals last week.
Meanwhile, top-level overseas demand for breeding stock ensuring an amazing day at Tattersalls on Tuesday to headline a strong week.
Japanese interest, particularly from Katsumi Yoshida's Northern Farm, was at its highest level of recent years while Australian buyers were again strong alongside overseas owners of British stud farms such as Nurlan Bizakov and Saleh Al Homaizi.
Their combined efforts helped the December Sale turnover rise by 16 million gns on last year to over 71 million gns, a figure still shy of the golden years of 2006 and 2007 when the total spend passed 100 million gns.
Yesterday's entire turnover would have not bought several of the better lots on Tuesday and away from Tartan Bearer it was Hughie Morrison's winning three-year-old Dead Cool, the final foal of 1989 Cheveley Park Stakes winner Dead Certain, who led the way when selling for 38,000gns to Khalifa Dasmal's racing manager Mark Crossman.
"She'll go to Dream Ahead next year but could stay in training after being covered," said Crossman. "She's from a very speedy family and out of a Group 1 winner and there are a lot of fillies producing winners in the pedigree. Dream Ahead is proving very popular and itwill be in his second and third years that we'll try and support him more."
After closing proceedings last night, Tattersalls chairman Edmond Mahony reflected on the sale's cosmopolitan clientele.
"The sheer diversity of the participants at Park Paddocks this week has, as ever, been the feature of the sale with buyers drawn from every continent in a shared quest for quality breeding stock," said Mahony.
"Overseas demand at all levels of the market is the hallmark of so many sales at Tattersalls and to see buyers here in such numbers this week is a wonderful tribute to the enduring reputation of European bloodstock.
This has been the final sale at Tattersalls overseen by director Martin Mitchell, whose diplomacy in 40 years with the company has not only earned the admiration of the whole bloodstock industry for his diplomacy but also helped many young people gain a foothold on the career ladder.
"I would like to pay tribute to our bloodstock sales director Martin Mitchell who retires at the end of the year after 40 years with the company," added Mahony. "Martin has made a huge contribution not only to Tattersalls but also to the wider industry and we wish him well for a long and happy retirement."