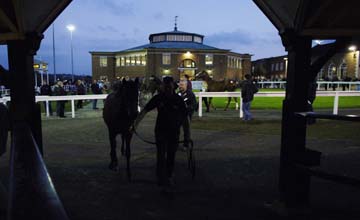 Tattersalls' conditions of sale address issue of non-payment
PICTURE:
Edward Whitaker (racingpost.com/photos)
Sales houses support unpaid horses racing ban

TATTERSALLS has voiced support for a proposal that would see horses who had not been paid for barred from racing until the debt was settled.
Asthe Racing Post revealed on Friday, the issue was raised at last week's Doncaster Bloodstock Sales' annual industry liaison meeting, at which the implementation of a 'certificate
to race' was discussed.
Sales companies would have the power to withhold the certificate if the horse had not been paid for, unlike passports, which have to accompany horses at all times.
Jimmy George, marketing director of Tattersalls, said
yesterday: "We have a condition of sale, 6.2, that addresses the
issue of non-payment, but it is encouraging to see that the topic
is being debated more widely.
"It was discussed at our recent industry liaison meeting and Tattersalls is fully supportive of any satisfactory and robust process that may be put in place to combat the problem."
Mat t Mitchell, head of bloodstock at Brightwells, said his company would support the proposal but that the problem of bad debts requires a broad minded approach.
"A certificate to race is something we support," he said, "but I think we should also re-examine the waybusiness is done.
"Brightwells holds auctions in a number of other spheres, such
as property and fine art, and there is a process that potential
buyers have to clear before they are allowed to bid. Introducing a stricter process for buyers prior to bidding at horse sales would be fairer to everyone involved and help prevent the current level of people getting into trouble."
Martin Donohoe's Goresbridge Sales has also been affected by its share of bad debt but, while Donohoe welcomes the recent proposal, he feels more is needed to cure the problem.
"Anything like this is a help and without doubt we would get behind it," he said. "But the problem arises when the horse is taken home, tried and found to be no good. Then you still might not be paid.
"Bad debt has affected us, although obviously in a smaller way than some of the bigger companies. While we don't give credit at our sports horse sales, we've had to do so in the thoroughbred sector principally because we wouldn't have been able to launch some sales without it – especially the breeze-up.
"Now we are trying to keep credit to a strict minimum – we are a horse sales company, not a bank."