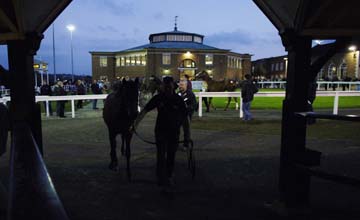 Representatives from Britain's major auction houses have said they would not discount the idea of holding a thoroughbred sale in London
PICTURE:
EDWARD WHITAKER
Auction chiefs open to idea of London sale

LEADING figures at Britain's major sales houses have said they would not discount the idea of holding a premierracehorse sale in London following consignor Ted Voute's suggestion in yesterday's Racing Post that "London would make an exciting venue for a horse sale".
At a time when newcomers to the sale ring would be more welcome thanever, taking the racehorse market to London has the potential to "attract new investors and look after our existing ones", Voute wrote.
Brightwells' Head of Bloodstock Matt Mitchell highlighted the relevance of bringing the product to the buyer in today's society with reference to the Brightwells sales at Cheltenham, which are sometimes held after racing at the course. He said: "We sell off site [at Cheltenham and Ascot]. You need a venue where horses can be stabled andthey can be viewed. Looking at what we've done at Cheltenham, the convenience for people who have been racing fits in with their busy lifestyle."
Regarding the feasibility of a sale by video link, Mitchell added: "In theory you could [sell in absentia]. In this age of modern technology I'm sure you could bring the horse to the venue via video link. Anything that is a different way of approaching the business is worth discussing at the moment."
Henry Beeby, chief executive of Goffs and managing director of DBS, said: "We are always looking for new opportunities and we should be looking for any means of attracting new buyers to the industry. The reason we have custom-built sales complexes at greatexpense is that people who are buying horses need to have good access to them.
"You'd have to balance out the benefits with the difficulties of the logistics and see if it would still be profitable. I agree with his [Voute's] thinking, the idea being 'take the product to the people'. I wouldn't discount it and would discuss it with anybody. It's helpful to have these ideas."
Tattersalls' marketing director Jimmy George mirrored Beeby's thoughts by saying: "We have taylor-made sales complexes specifically designed and developed to perform that role. It would be tough to find another venue that could fulfil that role, especially if you were talking about large numbers of horses."