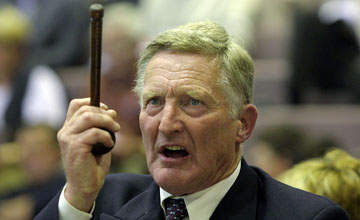 David Pim: "he had a great aura about him when he was selling a horse"
PICTURE:
Caroline Norris
Auctioneering legend David Pim dies aged 79

DAVID PIM, a legendary auctioneer and one of the most respected figures in Irish racing, died on Friday evening after a short illness. He was 79.
He ran Anngrove Stud in County Laois, which has been under Pim family ownership for five generations.
Having spent part of his youth in Kentucky, he steered the dairy farm into becoming a successful thoroughbred nursery, acquiring his first stallion, Lucifer – whose progeny included Stayers' Hurdle hero Flame Gun – in 1970 and going on to stand the likes of Arctic Lord, Monksfield, Pollerton, Prince Regent, Sexton Blake and Welsh Term.
The stud's high-profile graduates include 1996 Cheltenham Champion Bumper winner Wither Or Which, Queen Mary Stakes scorer Night Of Wind and smart chaser I'vehadit, and it currently houses three stallions: Pilsudski, Robin Des Pres and Rudimentary.
Pim also twice served as senior steward of the Turf Club and sat on the steward's panel at the Galway festival.
It was in the role of auctioneer that brought Pim wider admiration, though. Having honed his auctioneering skills in the bath, an opportunity arose for him to put them into practice relatively late in his life in 1975, when Ballsbridge Sales were looking to recruit.
He got the job and when Ballsbridge Sales became Tattersalls Ireland, he joined the new company at Fairyhouse, and began selling at Tattersalls in Newmarket in 1981.
Pim is credited with breathing new life into the art of auctioneering. He became renowned for enthralling audiences in the sale ring, generating high drama and reeling off sharp one-liners.
Pim's son Alastair, who has stepped into his father's shoes as the master of Anngrove Stud and as an auctioneer at Tattersalls, said on Saturday: "He brought theatre to the sale ring, and people who were not directly involvedwith the sale would come up to Park Paddocks just to hear him auctioneering.
"It is less well known, though, that away from the rostrum he was a very shy and private man."
Alastair Pim's flamboyant selling style is reminiscent of his father's, and he added: "I'm told we were like two peas in a pod. I sound like him, look like him, and I try to emulate him in auctioneering. He was a fine example to follow."
He also said that his father was particularly proud of overseeing the building of Tattersalls Ireland's new facilities in Fairyhouse, alongside his friend and colleague Michael Hillman.
Tattersalls chairman Edmond Mahony said: "He was, first and foremost, the outstanding auctioneer of his generation. He was an amazing entertainer and certainly the only man I knew who would attract members of the public to Park Paddocks, just to sit in the gods and watch him sell.
"He had been an enthusiastic amateur dramatist and he certainly brought it with him. He formed an instant rapport with the bidder and picked up on little things in their behaviour, making witty off-the-cuff remarks."
Pim retired from auctioneering at Newmarket in 2004 but continued selling at Tattersalls Ireland for another two years. The high points of his time at the rostrum include selling Tattersalls' first ever seven-figure yearling in 1983, a Troy colt, for 1.12 million guineas (he kept the gavel from that sale as a treasured souvenir), and selling two back-to-back 1 million guineas-plus yearlings.
Pim is survived by his wife Jean, daughter Ruth and sons Alastair and Christopher, and grandchildren. His funeral will be held early in the week.

"No better man ever stood on a podium at Tattersalls"
Leading industry figures in Ireland have lined up to pay tribute to David Pim.
His witty one-liners and ability to keep a crowd enthralled during a sale made him a dream auctioneer for the vendor, according to Kill trainer Ted Walsh.
"David was unique," Walsh explained. "What made him even more brilliant was the fact that he was a self-made auctioneer. He moulded himself."
"He was a brilliant man for the vendor. No better man ever stood on a podium at Tatterstalls. He had a wonderful turn of phrase and he had a great knowledge of the game as well, something which many auctioneers are missing."
Walsh also had huge admiration for Pim while he was senior National Hunt steward.
"When he was senior steward, he was a great man in the stewards' room too. He was very fair and had a great understanding of situations."
Paul Cashman of Rathbarry Stud was another who admired Pim's auctioneering ability.
"He had a great aura about him when selling a horse. He didn't seem to have any fear and was a truly great character. He was a fantastic auctioneer and I would say probably the best man I have ever seen at the job.
"He was a truegentleman and will be sadly missed."
Pim's contribution to the sales ring was also noted by breeder Eamonn Fitzpatrick: "David was a very, very nice man and a very good auctioneer. He was one of the founding members of the Ballsbridge sales and was a key man in ensuring that horses were vetted before being sold rather than afterwards, which had caused many, many problems."
Dessie Hughes trained a few horses for Pim during the 1990s and the Curragh handler heaped praise upon his contribution to the sport.
"He was a very genuine fella. One of the best owners you could possible have. No matter what the circumstances, he was always very understanding. He had a few horses with me about 12 or 13 years ago and I even had a half share in a point-to-pointer too."