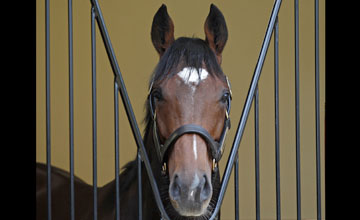 Frankel: made his return to Banstead Manor Stud
PICTURE:
Trevor Jones
Superstar Frankel returns to Banstead
HENRY CECIL yesterday said he was "pretty certain that there has never been a better or more talented" racehorse than Frankel, on the day the Juddmonte superstar returned to his birthplace, Banstead Manor Stud near Newmarket, as he prepares for stallion duties next year.
Frankel received an inevitably warm welcome from the Juddmonte team, including general manager Philip Mitchell, farm manager Simon Mockridge and head stallion man Rob Bowley.
Mitchell said: "In the foaling unit on February 11th 2008 at 11.40pm, little did we realise that we were witnessing the birth of a phenomenal racehorse.
"The rest as they say is history and it is now extremely exciting that Frankel will be returning to the stallion unit at Banstead, some 500 yards from where he was born."
Frankel is retired to stud as the winner of all 14 of his races, and Cecil added. "There is no doubt Frankel has been a brilliant racehorse. He had the speed to be a champion sprinter and then, once he grew up and settled, he got a distance with a turn of foot that makes champions.
"Today is a sad day in some ways for us as he has given us so much pleasure over the last three years. But I want to thank Frankel for so much - for being such a very special part of my training career. Thank you, Frankel."