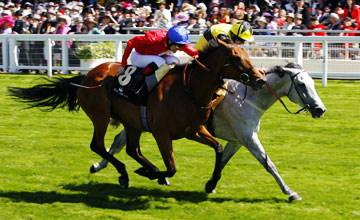 Strawberrydaiquiri (grey) narrowly denies Spacious in the Windsor Forest Stakes
PICTURE:
EDWARD WHITAKER
Group race double for Juddmonte stallions
Windsor Forest Stakes (Group 2), Ascot, 1m, 4yo+ fillies
STRAWBERRYDAIQUIRI (4 f Dansili - Strawberry Morn by Travelling Victor) Breeder: Newsells Park Stud in GB
NOT to be outdone by his younger stud-mate, Oasis Dream, Dansili notched a first Royal Ascot winner of 2010 when Strawberrydaiquiri bravely repelled Spacious to take the Windsor Forest Stakes.
Her win was also another feather in the cap of her owner-breeder Newsells Park Stud, who only last week purchased ashare in yesterday's King's Stand Stakes winner Equiano.
Dansili is currently on a par with Oasis Dream on 12 stakes winners for the year, among them recent Grade 1 Just A Game Stakes heroine Proviso and Musidora Stakes winner Aviate.
Remarkably, each of Dansili's first six crops were bred off a £12,500 fee or below. He is standing the current season for £65,000.
Strawberrydaiquiri is by far the best runner out of Strawberry Morn, a tough multiple stakes winner in the US and Canada. Strawberrydaiquiri aside, this family had been more noted for producing minor US stakes winners rather than any memorable performers.
Strawberry Morn has a foal by Silvano and has been covered by Dansili.