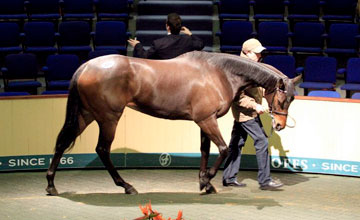 Goffs is to revive its Sportsman's Sale in a surprise change of plan
PICTURE:
EDWARD WHITAKER
Sportsman's returns after Goffs change of heart

GOFFS has made a surprise u-turn over its plans to stage a late-season yearling sale.
Having announced on Wednesday that the Orby would this year be staged over two, select days, with the third day switched to a date three weeks later, Goffs yesterday revealed that it would instead renew its Sportsman's Sale and stage it a day after the Orby on October 5.
The Sportsman's was last staged in 2008, but its return is because many middle-tier commercial breeders felt that staging a yearling sale alongside Goffs' Horses In Training Sale on October 25 and 26 was too late in the calendar.
Goffs chief executive Henry Beeby admitted the company "did not get it 100 per cent right" with its initial plans, adding: "We are not so big that we can't recognise something that might need changing and so we have listened to vendors in bringing back the Sportsman's, which will have its own identity and own marketing.
"By giving the sale its own identity we believe we can raise the profile of the yearlings on offer and provide an excellent platform for commercial Irish breeders."