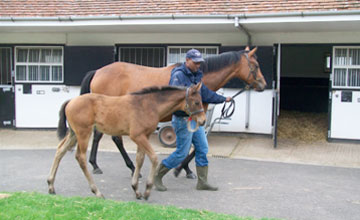 National Stud diploma graduate Thabani Nzimande
PICTURE:
EDWARD WHITAKER
South African link to National Stud graduation
THE 23 students from this year's National Stud training scheme graduated on Friday and among them was the inaugural winner of the Childwick Stud scholarship, Thabani Nzimande.
The stud's Dipoloma in Stud Practice combines classroom-based lectures and academic tuition along with intense practical work through a five-month residential period during the breeding season.
Another graduate on Friday was Mike de Kock's son Matthew.
Nzimande previously studied at Summerhill Stud in South Africa as part of the Al Maktoum School of Management Excellence at the north Durban farm.
He said: "For me it has been a dream to come to The National Stud and work under the management of (National Stud managing director) Brian O'Rourke and the team. I would like to say thank you to the team who organised great lectures for this year's class that have helped us to build ourselves up in this thoroughbred business. I am so lucky that I have been able to increase my experience and knowledge in this business, and that memory will stay with me for life.
"With the Childwick Trust's close connections to South Africa and racing in the UK and RSA, the (National Stud) trustees proposed that a potential link could be forged between The Al Maktoum School of Excellence students at Summerhill Stud and The National Stud's Diploma programme. It has been an extremely successful joint venture."
The Tim Dunlop Memorial Scholarship went to Cathal FitzPatrick as the student who demonstrated outstanding performance in all aspects of the course.
The National Stud Award, presented to the second highest achiever on the course or the best overseas student, was received by Roz Waterman. Ben McGrath was judged the most improved student.