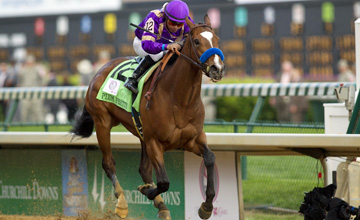 Plum Pretty: sold for $4.2 million to Mandy Pope's Whisper Hill Farm
PICTURE:

Alex Evers/EquiSport photos
Solid market defines Keeneland November
THE Keeneland November Sale in Lexington, Kentucky, closed on Friday following 11 days of solid trade.
Last year's sale was boosted by dispersals from the estate of Edward P. Evans' Spring Hill Farm and Saud bin Khaled's Palides Investments N.V. Inc., which between them grossed $72.759 million. As a result, the 2012 renewal was always going to struggle to match last year's returns.
In all, 2,414 horses sold for a total of $143,025,600, down 31.5 per cent from last year, and average of $59,248, which was down 27 per cent. The median dropped eight per cent to $22,000.
However, match this year's sale against the 2011 renewal without those dispersals and the picture changes significantly. The average of $59,248 actually represents an increase of three per cent from 2011 while the median rose ten per cent.
Pure Clan, a Grade 1-winning daughter of Pure Prize in foal to Bernardini, topped the sale when selling for $4.5 million to Borges Torrealba Holdings Ltd of Stud TNT, who have recently joined forces with Robert Clay's Three Chimneys Farm.
Kentucky Oaks heroine Plum Pretty joined Mandy Pope's burgeoning broodmare band at Whisper Hill Farm after selling for $4.2 million. Changing Skies, a Grade 3-winning three-parts sister to Nathaniel and Great Heavens, also changed hands for $4.2 million, in her case to Nicolas de Watrigant's Mandore International Agency.
Seven lots sold for $1 million or more compared to 23 in 2011. The clearance rate fell from 80 per cent to 77 per cent.
"This was a very good sale, and encouraging in that the market laid down a stable foundation for the industry," said Keeneland Vice President of Sales Walt Robertson. "Last year's sale was enhanced by the vintage dispersals. This year we saw a truer market. And while there was general support throughout, we definitely saw a concentration on quality with regard to all types - broodmares, weanlings and horses of racing age. There is no doubt the money is out there for a good horse."
Keeneland's director of sales, Geoffrey Russell, said: "It was great to see American buyers continue to participate so strongly at the highest levels. Their enthusiasm for making such long-term investments is a positive indicator for the horse industry.
"Production costs, particularly stud fees, continue to trend downward, creating greater opportunities for breeders to make a profit during the next several years. Another optimistic sign is the growing investment by breeders in Central Kentucky farmland; they want to be where they see the market is most stable."
However, while two of the top three lots, Pure Clan and Plum Pretty, are set to remain in Kentucky, international money played a significant role throughout the sale, particularly at the top end of the market.
Leading the way was the French-based agency Mandore International, who signed for four million dollar lots - Changing Skies ($4.2 million), Harmonious ($2.8 million), Shotgun Gulch ($1.6 million) and Negligee ($1.25 million) - on behalf of an undisclosed client. The agency, which made several high-profile purchases for Sheikh Joaan al-Thani at Arqana in August, ended the sale as leading buyer with five lots bought for $10.235 million.
Katsumi Yoshida of Northern Farm in Japan secured Grade 1 winner Zazu for $2.1 million while Grant Pritchard-Gordon of the Newmarket-based Badgers Bloodstock signed for $2.3 million worth of stock including Piste Noire, a daughter of Diesis in foal to Galileo who cost $925,000.
Taylor Made Sales Agency led all consignors for the 17th time at the November Sale, selling 207 horses for $20,071,700.
Kentucky-based Chad Schumer was the busiest agent as the buyer of 66 horses.