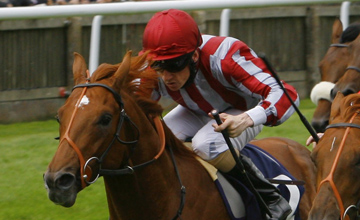 Burano: Meydan Classic winner is a stand-out among the lots catalogued for the Tattersalls Guineas Horses in Training Sale
PICTURE:

Mark Cranham (racingpost.com/photos)
Soft going makesit tough for Guineas breezers

IT was tough going for several juveniles during the breeze ahead of the Tattersalls Guineas sale on Thursday, with some taking to the softground on the Rowley Mile better than others.
Approximately 100 lots (after withdrawals) are set to come under the hammer during Friday's sale, which has been reintroduced following a year's hiatus and is opened for the first time in it's four-year history by a group of horses in training.
"The ground on the Rowley Mile is definitely soft - in fact with the heavy rain we had on Wednesday night, I'd say it was verging on heavy," said Sam Huggan of Huggan Bloodstock, which sends through colts by High Chaparral and Mount Nelson. "A few were struggling on it."
Her views were echoed by Johnny Hassett of The Bloodstock Connection, who sold the 470,000gns Guineas sale-topping daughter of Exceed And Excel in 2008. He said: "It was a big advantage if your horse was in the first 50 to breeze because at that stage the riders could still find a piece of fresh ground. But then there was only so far they could go until they hit the ground they used for Thursday's practice breeze, which was also churned up. It was definitely soft and I would think it made timing them (the two-year-olds) irrelevant."
Hassett was pleased to see a breeze-up sale return to Guineas weekend but questioned whether more use should be made of the date.
"Everyone is in Newmarket for the Guineas," he said, " so perhaps the whole breeze-up - the Cravenand the Guineas - should be held then. I know an extra two weeks would make a huge difference to some Craven horses."

Friday's sale starts at noon with a group of nearly 50 horses in and out of training (after withdrawals) ledby wild card entry Burano, winner of the Listed Meydan Classic for Brian Meehan.
Tattersalls have also added five wild card entries to the breeze-up sale including a Henrythenavigator half-brother to Grade 1 winner Harlan's Holiday.