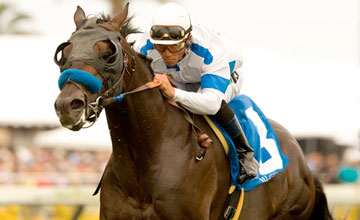 Twirling Candy: Malibu Stakes winner will enter stud at $15,000
PICTURE:
EquiSport photos/Alex Evers
Strike heads Lane's
End roster at $85,000
FORMER American champion sire Smart Strike will head the Lane's End Farm roster next season at $85,000.
The figure represents a rise on the 2011 fee of $75,000 commanded by the stallion, who is rising 20-years-old.
Another stallion to have undergone an increase for 2012 is Candy Ride, whose fee has been raised from $40,000 to $50,000. The son of Ride The Rails is the sire of six Grade 1 winnersincluding last year's Malibu Stakes hero Twirling Candy, who enters stud alongside his sire in 2012.
Also new to the Lane's End roster this year is the Grade 1-winning miler Courageous Cat, a brother to After Market whose fee will be set following his run in the Breeders' Cup Mile, and promising first-crop sire Shakespeare, who returns to Kentucky following two seasons in Florida.
LANE'S END FARM ROSTER 2010

| | | |
| --- | --- | --- |
| Name | 2011 fee | 2012 fee |
| After Market | $7,500 | $7,500 |
| Belong To Me | $7,500 | $5,000 |
| Candy Ride | $40,000 | $50,000 |
| City Zip | $15,000 | $20,000 |
| Courageous Cat | N/A | TBA |
| Curlin | $40,000 | $40,000 |
| Discreetly Mine | $15,000 | $15,000 |
| English Channel | $25,000 | $25,000 |
| Langfuhr | $15,000 | $15,000 |
| Lemon Drop Kid | $35,000 | $35,000 |
| Mineshaft | $25,000 | $35,000 |
| Pleasantly Perfect | $7,500 | $10,000 |
| Quality Road | $35,000 | $35,000 |
| Rock Hard Ten | $25,000 | $20,000 |
| Shakespeare | $10,000 | $10,000 |
| Smart Strike | $75,000 | $85,000 |
| Stephen Got Even | $7,500 | $7,500 |
| Twirling Candy | N/A | $15,000 |