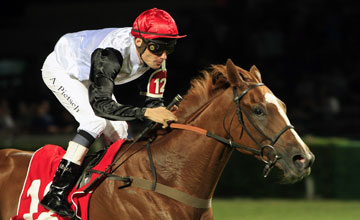 Vanjura: the flagbearer for newly crowned champion German sire Areion
PICTURE:
Turkish Jockey Club
Areion clinches thrilling German sires' title race

AREION snatched victory from leader Sholokhov in a thrilling finish to the 2010 German Flat sires' championship at Neuss on the last day of the year.
Areion pipped Sholokhov to the accolade with a winner,
a second and a third, and €4,620 in prize-money on the last day of the German Flat season, taking his progeny earnings past Sholokhov, who had held a lead of €2,650 at the start of the day.
The 15-year-old son of Big Shuffle was represented by five individual Group winners in Germany in 2010, including German 1,000 Guineas winner Kali and subsequent IStanbul Trophy winner Vanjura.
Areion's part-owner Marlene Haller had gone all out to help her charge win the championship, entering seven of her horses for the crucial day's racing.
Areion was a Group 2-winning sprinter, while Sholokhov won the Group 1 Gran Criterium in Milan attwo, and was second in the Irish Derby and Eclipse Stakes when trained by Aidan
O'Brien. He was latterly trained by Michael Jarvis for owner Gary Tanaka.
The new champion has moved from Gestuet Evershorst to
Gestuet Auenquelle, where Big Shuffle stood until his death last year, for the coming season. His fee has risen to €8,000 from €6,000 after this year's exploits, and it was the associated rise in demand that triggered themove.
Sholokhov stands at Gestuet Etzean at a fee of €7,000.