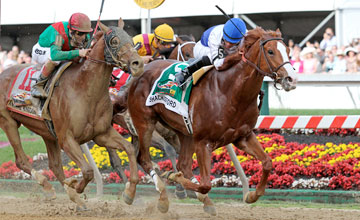 Shackleford: son of Forestry will stand at Darby Dan Farm
PICTURE:
Jessie Holmes/EquiSport photos
Shackleford to retire
to Darby Dan in 2013
LAST year's Preakness Stakes winner Shackleford will stand at John Phillips' Darby Dan Farm in Kentucky next season. A fee for the four-year-old son of Forestry, who is currently being prepared for the Grade 1 Carter Handicap on April 7, will be announced at the end of the year.
"Shackleford possesses all of the qualities needed to be a top stallion, and we're delighted that he will start his much-anticipated stallion career at Darby Dan next season," said Robert Hammond, general manager of Darby Dan, which will retain a minority interest in Shackleford for the rest of his career.
"He's an impressive physical specimen from a great female family, and if you look at recent winners of the Preakness, no other American Classic has produced more champions and successful stallions in the modern era than the Preakness."
Trained by Dale Romans, Shackleford was one of last year's leading three-year-olds, running first or secondin Grade 1 events such as the Florida Derby, Preakness Stakes, Haskell Invitational and Breeders' Cup Dirt Mile. To date, he has earned $1,985,803 for his owners and breeders Mike Lauffer and Bill Cubbedge.
"Shackleford is a special horse," said Romans. "It's rare to find a horse with true sprinter speed that has the ability to carry that speed a classic distance and have the success he's had. My favorite thing about him is that he's tough as nails and a true pro. He was durable and genuine enough to dance all of the big dances last year and earn more money than any other three-year-old."
Part-owner Lauffer added: "We couldn't be more excited about Shackleford's future at stud after racing,and we feel like Darby Dan is a perfect fit.
"Darby Dan is a farm that is on the move, and John Phillips and his experienced team are doing a terrific job at building on the farm's great tradition of standing stallions. We look forward to supporting Shackleford with our own mares and at the sales throughout his stud career."
Shackleford shares his sire, Forestry, with successful young stallion Discreet Cat and is out of the Unbridled mare Oatsee, also thedam of Grade 1 winner Lady Joanne.