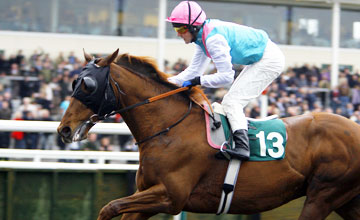 Tranquil Tiger: son of Selkirk added the Winter Derby to his record
PICTURE:
Mark Cranham
Tranquil Tiger: quirky runner who may improve
TRANQUIL TIGER 6 h Selkirk - Serene View by Distant View
WE knew, well over two years ago, that Tranquil Tiger was capable of winning in Pattern company; he regularly turned in performances that showed he had the requisite class.
Seven Listed victories clearly testified to his merit, but was he really to be trusted in a higher grade? In five efforts at Pattern level he had never managed better than a single fourth place before last Saturday, when punters chose to ignore that evidence, backing him down from 9-4 to 11-8 for Lingfield's Group 3 Winter Derby.
Of course, there were positive pointers as well. He had taken well to the Polytrack, winning both of his previous starts over the course and distance last back-end, and it was no secret that he had been working well at home, as galloping companion of no less a star than Champion Stakes hero and Dubai World Cup aspirant Twice Over.
Even so, there was a reason why Tranquil Tiger had raced in blinkers since the summer of his four-year-old campaign. He had exhibited a quirky nature before, clearly was not a straightforward ride, and he was not the sort of horse that a cautious backer would choose to depend upon.
As it turned out, thanks to a skilful ride from Tom Queally, the intrepid plungers collected. The favourite broke alertly, led for nearly a quarter of a mile, then travelled easily while following the pace of Suits Me, who had finished behind him in both of their previous Lingfield meetings.
More than a furlong from home Queally asked Tranquil Tiger for his effort, and the six-year-old soon drew away, his victory seemingly assured. But then, as on other occasions, he idled, drifted to the right, and invited his rivals to take another shot at him.
Three of them were bearing down hard on him again at the finish, all within a length, but Queally - his pilot for six of his ten wins - had judged matters just right. Tranquil Tigeris a thinker, inclined to pull himself up when he reckons he has done enough, but he was outthought by a brainy rider on this occasion.
It will be fascinating to see how Henry Cecil campaigns Tranquil Tiger in the future. Three consecutive wins on Lingfield's Polytrack might suggest that he has found a new lease of life on that surface, but he has run to higher marks on turf before, and though six of his wins have come over 1m2f, that is by no means the limit of his stamina; he had a victory over 1m6f at Salisbury to his credit three years ago.
It is a rare Flat horse who improves at the age of six, and one who is quirky is likely to become quirkier still, so it would seem rash to predict where he might go from here. All we can say is that he is in the right hands, around the stable and in the saddle, if there is scope for him to enhance his reputation.
Tranquil Tiger comes from the 11th crop of his versatile sire Selkirk, a horse who earned his racing distinction as a miler, winning the Group 1 Queen Elizabeth II Stakes at three and adding three Grade 2 victories in the following year. At stud he has been responsible for major winners over a variety of distances, with stock ranging from precocious juveniles to late-developers.
Among the former group are Sulk and Red Bloom, both top-level scorers in their first season, while Tranquil Tiger is by no means alone in achieving Pattern success as a mature horse. The Trader, a rare pure sprinter, became a Group 2 winner as a seven-year-old, and Blythe Knight notched his Group 3 victories in the Diomed Stakes at seven and eight.
The crop of 2004, to which Tranquil Tiger belongs, alsofeatured Worldly, whose first Graded win in the States came at three, while Pipedreamer graduated at Group 2 level at four, and Selmis rose to Group 1 standard in Italy at five. Selkirk's tally of individual Group 1/Grade 1 winners reached 12 in Decemberwith Daryakana's success in the Hong Kong Vase, but at home his biggest triumph came in the 1,000 Guineas through Wince, who hails from the same female line as Tranquil Tiger, his third dam being the grand-dam of the Classic heroine.
Selkirk suffered a severe setback at stud last spring, when a kick from a maiden mare resulted in a temporary loss of fertility, but he is back in full working order at Lanwades now, covering at £20,000, his lowest fee for a decade. After a season in which his yearlings averaged over 90,000gns and one topped the trading at Tattersalls October Part 2, he is naturally proving popular.
Tranquil Tiger is only the second runner - the first was useless - from his dam Serene View, who died in foaling a dead Selkirk product last year. The mare's unfortunate record was disappointing, as she had shown smart form as a three-year-old herself when in training with Maurice Zilber, winning over 1m at Longchamp and finishing second four times, twice in Listed company.
Half-sister to two other winners, Serene View was out of Navarene, whose own siblings included ten winners, three of them successful in Graded company in America - Contredance in the Grade 1 Arlington-Washington Lassie Stakes, Skimble in the Grade 2 Dahlia Handicap and Shotiche in the Grade 3 Rolling Green Handicap.
Skimble, a daughter of Lyphard, in turn produced Skimming (by Nureyev), twice successful in the Grade 1 Pacific Classic, andshe was a full sister to Flit, the dam of Wince, whose own first foal was Quiff (by Sadler's Wells), Group 1 winner in the Yorkshire Oaks and runner-up in the St Leger.
Many of the female descendants of unraced Nimble Folly seem to have profited from matings with stallions from the Northern Dancer male line, but that connection has not always proved necessary for a successful outcome. Selkirk is himself free of Northern Dancer, and the little Canadian-bred supersire's only appearance in the background of Tranquil Tiger's pedigree is as one of the 64 ancestors in the sixth generation.
Two who feature more closely - and are doubly represented within five generations - are Native Dancer and Mixed Marriage. That pair appear in the top half as the parents of Atan, the once-raced bargain basement stallion who surprised by delivering a notable runner and sire in Sharpen Up, and in the bottom half as paternal grandsire of Mr Prospector and maternal granddam of Known Fact respectively.
Native Dancer has another presence, as sire of Restless Native, in the sixth generation, where Nasrullah features twice. It may be hard to keep Northern Dancer out of a pedigree these days, but there are still plenty in which his influence is of a minor character.
Bred by Juddmonte Farms Ltd in England.
_______________________________________________________________________
SIRE: SELKIRK
Bred by George Strawbridge Jr in Pennsylvania. Won 6 (7-8f) of 15 starts,viz. 1 (Listed) out of 2 at 2 years, 2 (inc. Queen Elizabeth II S.-Gr1) out of 6 at 3 years, 3 (Lockinge S.-Gr2, Goodwood Mile-Gr2, Challenge S.-Gr2) out of 7 at 4 years. RPR: 116 at 2 years, 128 at 3 years, 129 at 4 years. Earned £477,379.
Big (16.2½hh), powerful, long-striding, quite attractive individual, if always a bit on the leg. Effective on any ground, very game, best at a mile, with excellent turn of foot.
By a high-class sprinter and good sire whose stock often stayed better than he did. Out of an unfashionably-bred mare who nevertheless showed good form here (Listed winner, Classic-placed) and in the States (Gr2 winner), and has bred other notable stakes-winners in Seebe (by Danzig; Gr3 winner in England and USA, Gr1-placed in France) and Rory Creek (by Silver Hawk; Gr3 winner in USA).
Stands at Lanwades Stud, Newmarket, at a fee of £20,000 (Oct. 1). Sire of 15 crops of racing age, inc. notable winners: Hidden Meadow (Gr3), Kirkwall (Gr2), Orford Ness (Gr3), Squeak (Beverly Hills Handicap-Gr1, Matriarch Handicap-Gr1), Border Arrow (Gr3), Country Garden (Gr2), Field of Hope (Prix de la Foret-Gr1), Trans Island (Gr2), Sign of Hope (Gr2), Valley Chapel (Gr3), Wince (1,000 Guineas-Gr1), Harbour Island (Gr3), Altieri (Premio Presidente della Repubblica [twice]-Gr1), Independence (Gr2), The Trader (Gr2), Highdown (Gr2), Leadership (Gran Premio di Milano-Gr1), Sulk (Prix Marcel Boussac-Gr1), Welsh Diva (Gr3), Blythe Knight (Gr3), Favourable Terms (Nassau S.-Gr1), Felicity (Gr3), Prince Kirk (Prix d'Ispahan-Gr1), Etendard Indien (Gr3), Jedburgh (Gr3), Kastoria (Irish St Leger-Gr1), Red Bloom (Fillies' Mile-Gr1), Etlaala (Gr2), Freedonia (Gr2), Icelandic (Gr3), Tam Lin (Gr2), Pipedreamer (Gr2), Selmis (Premio Presidente della Repubblica-Gr1), Tranquil Tiger (Gr3), Worldly (Gr2), Akmal (Gr3), Border Patrol (Gr3), Daryakana (Hong Kong Vase-Gr1).
______________________________________________________________________
DAM: SERENE VIEW
Bred by Juddmonte Farms in Kentucky. Ran only as 3-y-o, winning 1 (1m) of 6 races. Also 2nd 4 times (2 Listed) and 3rd once. Earned Euros 257,000.
Backward sort, unraced until August at 3, smart performer from 7f-1m1f, never beaten more than ¾ of a length.
Well bred. By a leading miler and successful sire. Half-sister to 2 other winners. Dam placed, half-sister to 10 winners, inc. Contredance (Gr1), Skimble (Gr2; dam of Gr1 winner Skimming), Shotiche (Gr3), Nimble Feet (dam of Gr2 winner Eltish) and Flit (dam of Classic winner Wince, herself dam of Gr1 winner Quiff). Top-class family.
To stud at 4 years and dam of: Idyll (2002 f by Dansili; unraced), Well Defined (2003 f by Barathea; unplaced), Tranquil Tiger (2004 c by Selkirk; Group 3 winner), ConstableCountry (2005 c by Peintre Celebre; unraced), Serene Dream (2007 f by Oasis Dream; ). Slipped to Barathea in 2006, and to Beat Hollow in 2008. Died in 2009, having produced a dead foal by Selkirk.
_______________________________________________________________________
CONCLUSIONS
Tricky customer, but a high-class performer at his best, effective on turf and all-weather.