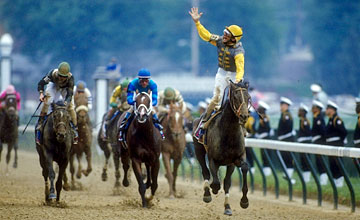 Sea Hero - Polish Navy's best runner - wins the Kentucky Derby
PICTURE:
Getty Images
Retired Kentucky sire Polish Navy put down

GRADE 1 winner and Classic sire Polish Navy died on Thursday at the Old Friends thoroughbred retirement facility in Kentucky. He was 27.
The Ogden Phipps homebred son of Danzig was put down after suffering from complications following a hip injury.
Michael Blowen, Old Friends founder and president, said: "PolishNavy injured his hip several weeks ago and was taken to Hagyard Equine Medical Center where he received excellent diagnostic care.
"Unfortunately, he just never recovered. [Vet] Doug Byars visited with this great old horse several times and, in consultation with Old Friends, advised us that Polish Navy's time had come."
Campaigned by Phipps and trained by Shug McGaughey, Polish Navy was rated America's joint-second top-rated two-year-old in 1986 with victories in the Champagne and Cowdin Stakes, in which he beat Java Gold.
Knee surgery ruled Polish Navy out of the Triple Crown trail, but he came back with a vengeance in the Woodward Stakes, beating Wood Memorial winner Gulch - alsonow a resident of Old Friends.
Polish Navy spent much of his stud career at Wafare Farm in Kentucky. He is best remembered for his Kentucky Derby-winning son Sea Hero, who in 1993 made his owner Paul Mellon - famous for campaigning Mill Reef - the first to win the Derby, Prix de l'Arc de Triomphe and Kentucky Derby. Sea Hero also won the Travers Stakes.
UAE Derby winner Asiatic Boy ranks as one of the best horses produced by a Polish Navy mare.
Polish Navy moved to Old Friends from Richland Hills Farm in 2009.