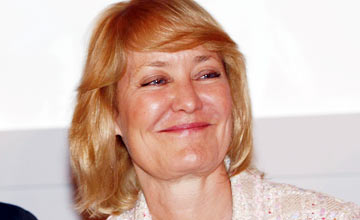 Rachel Hood: has urged the industry to raise prize-money to £120 million
PICTURE:
Dan Abraham
ROA wants prize-money to reach £120 million

RACEHORSE OWNERS ASSOCIATION president Rachel Hood has said the racing industry should set a target of a minimum of £120 million in prize-money in Britain in 2014.
She told the annual general meeting of the ROA in London on Tuesday that progress needed to be made with both the betting industry and racecourses before a "step change" in prize funds could be achieved.
This year's prize-money is expected to be at least £110 million, which would raise the return to owners by just three percentage points to 24 per cent, according to Hood.
She said: "Progress on issues relating to betting and racecourses is essential if we are going to achieve a step change for members that would see prize-money of at least £120 million, a realistic target I believe the sport should set for 2014."
Hood reiterated calls for the government to act to improve racing's funding.
She told the audience: "I would urge the minister [for sport and tourism Hugh Robertson] to remove this issue from his 'too difficult tray' and display some desire and commitment to facilitate a fair, sustainable and enforceable mechanism that would enable racing to receive a reasonable return from all betting on British racing, not just the diminishing portion that takes place with bookmakers based in the UK."
Hood said that owners expected bookmakers to engage constructively in talks with racing over commercial deals and that all racecourses should enter into prize-money agreements with the Horsemen's Group.
She warned: "Any racecourse that isn't prepared to act appropriately must be left in absolutely no doubt that horsemen will, quite rightly, choose to race their horses elsewhere."