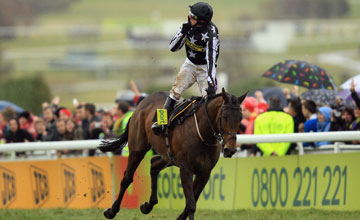 Gold Cup hero Imperial Commander was sold as a store for €19,000
PICTURE:
Getty Images
Breeders question virtues of unbroken stores

UNCERTAINTY over the best way to prepare a horse for auction could lead to breeders turning increasingly to the racecourse to try to sell their horses, three leading jumps figures have said.
The success of French-bred jumpers in particular has prompted debate in Britain and Ireland over whether the traditional method of selling horses as untried, unbroken 'stores' was an outdated concept in a struggling market.
In Ireland in particular there has been a push to ensure jumps-bred youngsters are in a more advanced condition when put through the ring.
But Richard Kent, the Irish-born owner of the Mickley Stud in Shropshire, expressed doubts about breaking in horses prior to sale – not least because buyers might be concerned that a horse is only being sold when broken in because its owner has decided it is of limited ability.
"I'm not sure how many owners want to buy a broken horse," Kent said. "Or if you find out when breaking in that he is a very bad tempered horse, for example – do you disclose that?"
As a result Kent has sent some of his own horses to Ireland to be trained with a view to them attracting buyers, having raced either under rules or in point to points. "We are finding it easier to sell horses off the track," he said. "I have already had some success that way.
"When the market was very strong, there was demand for big fat store horses. But I haven't made any money at store auctions for the last two years and I can't see that changing this year."
Toby Balding, the chairman of the TBA's National Hunt Committee, said he bought an unbroken horse in the spring and has sent it to Ireland to run in point-to-points. "If it achieves over there, I will make a profit on it as he was a cheap purchase," Balding said. "There is no doubtthat putting form on them adds value."
Balding has also inherited horses formerly owned by the late Bridget Swire. One of them, bumper winner There And Then, will go to Doncaster's May sale – "if I've not sold him privately before then. It [running youngstock prior to sale] seems to be gaining in popularity."
He added: "There is a lot on conversation going on at the TBA National Hunt Committee suggesting that horses should be pre-broken before going to the sales. The problem is that people then think you've tried the horse and perhaps it might not have shown you very much."
Trainer Rebecca Curtis, in partnership with Gearoid Costelloe, has sold a number of her successful bumper runners, most notably Made In Time, who was sold to J P McManus after making a winning debut at Ffos Las.
She said: "People seem to like horses that have won bumpers and it makes them easier to sell. You can trust bumper form more than point-to-point form because sometimes poor horses can manage to win a point-to-point.
"They've shown that they have got that bit of class if they've won a bumper and it's a nice introduction for them on the track. We generally plan to sell them privately to stay in the yard, as you're more likely to lose them if they go to the sales."