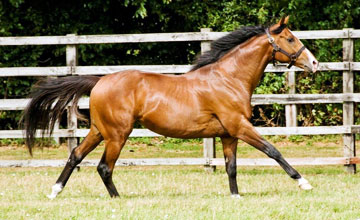 Sir Percy: stands at Curragh sponsor Lanwades Stud
:
Rausing extends stud sponsorship at Curragh
LANWADES and Staffordstown Studs have extended their sponsorship contributions at The Curragh by backing the Group 3 Lanwades Stud Stakes on Sunday, 26th August.
The race is for fillies and mares over nine furlongs. Staffordstown also sponsor a Listed racefor two-year-old fillies at the end of The Curragh's season on Sunday, 14th October.
Lanwades Stud owner Kirsten Rausing said: "I am delighted to be able to support Irish racing and breeding in this way. Having lived and worked in Ireland myself, I particularly appreciate the opportunity to have raised our yearlings on the excellent land at Staffordstown in Co. Meath for the last 20 years."
Lanwades, based near Newmarket is home to stallions Aussie Rules, Hernando and Selkirk, Sir Percy and Archipenko, while horses reared at Staffordstown include Rausings top racemares Alborada and Albanova.
It will also sponsor for the first time the Listed Lanwades Stud Fillies Stakes at Ovrevoll.