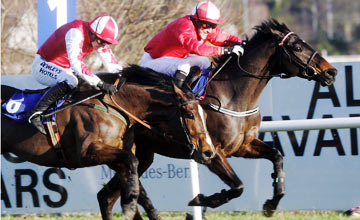 Puyol: the smart hurdler was trained by the late John Mulhern
PICTURE:
Caroline Norris
Puyol purchased by Amberleigh House owner
PUYOL, who won the valuable MCR Hurdle in January for the late John Mulhern, is set to race in the Amberleigh House colours of John Halewood after selling for £80,000 to agent Bobby O'Ryan at Doncaster's Spring Horses In Training Sale.
"He's going to be trained by Lisa Williamson and go novice chasing next season," said O'Ryan.
"I was there when he won the MCR Hurdle and he's been well looked after by John and Eimear Mulhern so should have a good future over fences."