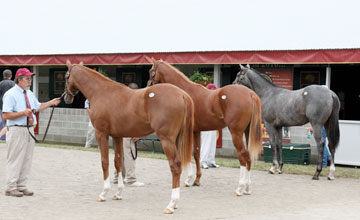 End of book 2 at Keeneland November breeding stock sale
PICTURE:
EDWARD WHITAKER
Positive mood for end of book 2 at Keeneland
THE overall mood has remained positive during the last day of Book 2 at the Keeneland November breeding stock sale on Thursday in Lexington, Kentucky.
Elliott Walden, the president and CEO of WinStar Farm, said: "It is selective a little bit with people wanting young mares and athletic-looking foals, but for the most part I think it is still pretty strong.
"Book 2 has held its own. In reality, before Evans' dispersal, Book 2 would have been half of Book 1, so you still have the strength."
With about 150 hips through the ring Thursday, yet another mare out of the dispersal of Edward P. Evans' Spring Hill Farm has brought the highest price of the morning.
Sumptuous, a 6-year-old Hennessy mare, sold to Barbara Banke's Stonestreet Stables for $410,000.
"We actually sold her as a yearling to Mr. Evans, so we always loved her at the farm," said bloodstock agent John Moynihan, who signed the ticket.
"Hennessy is a great broodmare sire, and Barbara had a little affection for her. She is beautiful and she fits what we are trying to do," he added.
Sumptuous sold at the 2006 Keeneland September yearling sale for $400,000. Out of the graded stakes winning Dehere mare Belle of Perintown, she is a half-sister to grade 3 winner Strike it Rich.
"We still own her mother," explained Moynihan. "Her mother is one of our most favorite mares at the farm. She always has pretty babies, so we are hoping her daughter will have pretty babies for us, too."
Lane's End is serving as consignor for the Evans' dispersal. Sumptuous was offered in foal to Quality Road.
Moynihan echoed Walden's thoughts when asked about the overall market, saying, "It is very difficult to buy. It is hard, but we are getting a few, and we love the ones we got."
The sale runs through until Nov. 17.