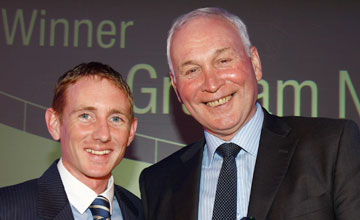 Paul Hanagan presents Glebe Studgroom Graham Nicklin with the Stud Staff award at the Godolphin Stud and Stable Staff Awards
PICTURE:
Dan Abraham
Nicklin 'overwhelmed'
by Stud Staff award
GRAHAM NICKLIN of Glebe Stud in Newmarket picked up the Stud Staff Award at the Godolphin Stud and Stable Staff Awards on Monday and described himself as "totally overwhelmed".
Nicklin, 65, received a cheque for £5,000 also with his award after defeating Frances Eilbeck, a stud groom from Minster Stud, and Gordon Laing, an assistant stud groom at Fittocks Stud.
The groom said that working for a stud differed to working in a stableas it "completely takes over your life" but added that his job gave him wonderful satisfaction.
He said: "It's hard to explain just and put into words how I feel but I want to thank the boss for putting me forward and it's a great credit to all the staff at the stud."
Nicklin, who worked for Northmore Stud in Exning before moving to Glebe Stud, is involved in all aspects of the stud's operations from foaling to covering the mares and sales work.
He said: "I think I might have one to go and foal tonight so it's non stop. I love the foaling but also taking the mares to stallions, we mostly use Darley but go to Shadwell too sometimes, it's a whole year operation working fora stud."
Having reached retirement age Nicklin has planned his exit from the sport but is not yet ready to stop doing the thing he loves.
"I've got it planned when I'm going to retire and the idea is to go out after the October sales in 2013 so I've got a bit of time yet," he said. "It's wonderful to be able to get this award before I do."