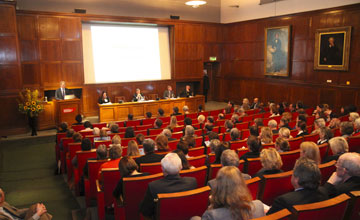 Speakers and the audience assemble for the National Equine Forum
PICTURE:
Craig Payne
National Equine Forum - all the news and views
MAINTAINING a close and effective working relationship between the thoroughbred and other equine industries, alongside Defra, was identified as key to controlling the spread of equine infectious diseases at Tuesday's National Equine Forum at the Institution of Mechanical Engineers in London.
Owen Paterson, secretary of state for the environment, food and rural affairs, applauded Thoroughbred Breeders' Association chairman Richard Lancaster in emphasising the partnership required between all sectors of the equine industry in the control of disease.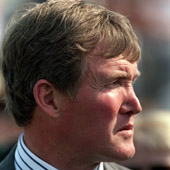 Richard Lancaster: TBA chairman
PICTURE:
Edward Whitaker
Speaking earlier in the afternoon, Lancaster outlined the economic input provided by racing into research surrounding such disease threats as contagious equine metritis and equine viral arteritis.
"Thoroughbred breeding is often seen as elite and out of touch by other equine disciplines, and I suspect that a number of the audience feel that the motives of thoroughbred breeders and racehorse owners are driven by profit and gambling, rather than equestrianism.
"There's no doubt we operate in a commercial world. However, we are here to talk about controlling infectious disease. This is both a welfare issue and also an enormous consideration for our ability to breed and export horses to the rest of the world."
Government figures showed the value of live horses exported in 2011 amounted to £262 million. Information supplied by Weatherbys indicated that £89m of that figure was generated through the movement of thoroughbreds.
This attributed 34 per cent of the income to just five per cent of the horse population.
"Maintaining confidence in our product is vital, not only for horsemen but for our government's balance of payment," Lancaster said.
"Joint working between the equine community and government underpins this success story. We cannot do this in isolation from the remaining horse population."
Dr Richard Newton of the Animal Health Trust supported Lancaster's argument with data from recent decades, in which research and action within the thoroughbred industry successfully identified and controlled equine infectious disease outbreaks, from the first cases of CEM in 1977 through to last year's outbreak of equine viral arteritis.
"But lessons are often learned after the outbreak," said Newton. "The thoroughbred industry is now trying to pre-empt problems before they occur."
These included the emergence of dourine, a venereally transmitted disease which was reported in Italy as recently as 2011 and which is now covered in the Horserace Betting Levy Board Codes of Practice, and the threat of African Horse Sickness.
A government working group, tasked with identifying the risks resulting from such an outbreak, developed a control strategy and associated legislation in order to facilitate disease control should AHS occur in the UK.
"I'm also pleased to report that both the equine industry and the government have put further investment into resources and research, including the development of the most appropriate vaccine," said Newton.
In addition, Newton received a grant from the HBLB to look at resource development to maximise Britain's ability to deal with AHS.
He said: "The Levy Board took on board that we didn't have all the answers and have since funded a new study to further our understanding."
In 2011-12, the HBLB budget for veterinary research totalled £1.2m, of which one third was assigned to disease control. In addition, the TBA veterinary budget contributed a further £130,000 to research.
Promising news on colic survival
A TOPICAL subject following the news that Cheltenham Gold Cup and Grand National contender Katenko underwent colic surgery at the weekend, was covered by Dr Mark Hillyer of Newmarket Equine Hospital.
Although identifying that both broodmares and active stallions showed increased susceptibility to colic, Hillyer revealed promising figures regarding survival rates.
"On average, in 100 cases, 20 will spontaneously resolve," he said. "Of the 80 which require medical intervention, 74 will respond without surgery, two will not survive. Surgery will be required on four of the cases, of which three will recover."
He added a warning that after surgery 32 per cent of cases would go on to suffer further episodes, only around five per cent would incur more than two bouts.
Merits of two-year-old racing debated
FOLLOWING on from various talks reviewing London 2012 and its legacy, the afternoon lectures came to a finish with a discussion by Professor Pieter Brama of University College Dublin titled 'Racing as two-year-olds - are they ready or can we make them ready?'
Noting that it was a sensitive topic, Brama outlined a number of studies to support the practice of racing juveniles, led by Australian data which showed those that ran at two went on to perform for longer.
"Bone responds well, and quickly, to exercise, as do muscles," said Brama. "Cartilage and tendons are different, and the quality of cartilage is vital for longevity."
Functional adaptation, that being the cartilage's ability to strengthen through sustained loading, was proven to be influenced by exercise at an early age.
Research showed that increasing workload by up to 30 per cent could have positive significant effects on the composition and structure of cartilage, but that "there is a window of opportunity to create the ability to sustain loading". Cartilage was shown to remain relatively static between the ages of four and 30 years.
In a separate study, foals that were kept on box rest from birth to six months showed no functional adaptation, while subsequent loading from six to 12 months did not provide compensation for missing development early on.