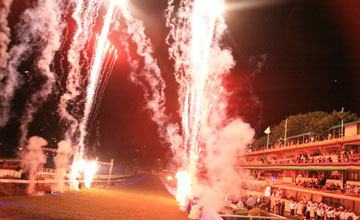 The bicentenary celebrations began with a gala event at the racecourse
PICTURE:
David Cramphorn
Jockey Club to celebrate MTC bicentenary
TWO centuries of horseracing in Mauritius are being marked this week, with the oldest Jockey Club in the world on hand to acknowledge the achievements of the third most senior turf authority.
Steward Andrew Merriam is representing the Jockey Club at a series of events to celebrate the founding of the Mauritius Turf Club, which staged its first race meeting on June 25, 1812, by Sir Robert Farquhar, inaugural governor of the island after its capture by Britain from France two years earlier.
In historical terms, the MTC is the oldest in the southern hemisphere and third overall behind the Jockey Club and Ireland's Turf Club.
Farquhar regarded horseracing as a post-war means of securing the "esteem and collaboration of the local French population," according to local records, and his ideals were advanced by Col Edward Draper, an amateur rider in Britain who quit the army in 1812 and two years later went to live in Mauritius, where he died and was buried in 1841.
Draper's racing experience enabled him to strengthen the position of the MTC and he became known as the founding father of the sport in Mauritius.
His contribution has been marked this week by the local authority in the capital Port Louis giving his name to part of the road previously known as Duke of York Avenue, which runs through Champs de Mars racecourse.
Merriam, who is also chairman of Jockey Club Estates, said: "I'm immensely honoured to be here for the bicentenary celebrations, and proud to be representing the Jockey Club.
"British involvement was responsible for starting and then properly developing horseracing on the island, and I'm delighted to see that although the French influence is very noticeable, Britain and France are bound together here in true entente cordiale.
"The Mauritius Turf Club continues to nurture the sport against all the modern challenges that most racing authorities face, and its members can take great credit from what they have achieved."
The bicentenary celebrations, whose partners range from national airline Air Mauritius to hotels group Sun Resorts, began with a gala event at the racecourse, which included a re-enactment of the first race in 1812 and ended with a stunning fireworks display that was probably visible all round the island.
They conclude on Saturday with a nine-race meeting, where the feature event offers a first prize of MRs1 million (£20,700).