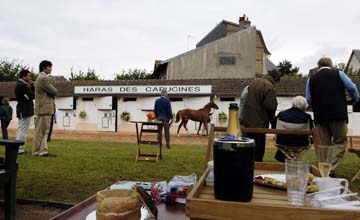 Will Arqana vendors be popping champagne corks at the end of the sale?
PICTURE:
Edward Whitaker/racingpostpix.com
Market holds up on day two of Arqana sale

---
Read Nancy Sexton's blog from the Arqana August yearling sale
FOLLOWING day two of the Arqana August sale, Arqana managing director Olivier Delloye said: "Today was a lot like the corresponding day last year. It was reassuring to see the market hold up after yesterday. We were satisfied with the average and median, and it was interesting to see that the top price was by a first crop stallion.
"There were some nice models that made good money, 12 sold for above €200,000 - the same figure as last year. There was a good diversity of buyers including those from Japan and Qatar."
Delloye also suggested that Arqana would look into at mixing the first two sessions next year rather than grade the yearlings in order to attract a wider range of buyers to both days.