ITBA Expo: Johnston praises Irish breeding
TRAINER Mark Johnston said Irish breeders and sales companies are fairing well amid economic unrest in Friday night's international breeding and racing forum at the Irish Thoroughbred Breeders' Association Expo 2012.
"Irish breeders are holding on particularly well in the current climate and there is still strong demand for their horses at the sales," said Johnston.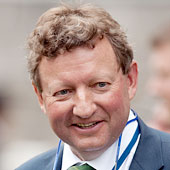 Mark Johnston: against yearling sale incentives
PICTURE:
Edward Whitaker
However he did stress that there is an increasing buyer presence at sales in England. "It seems that in the last couple of years Tattersalls has become stronger and stronger and there are more buyers going there."
But Johnston doesn't feel it has been detrimental to the state of Irish sales. "If anything I think Keeneland has been the loser over the last couple of years. I go to Keeneland every year but I am buying less and less there.
"I would actually think that in the current climate Irish horses are very popular, I don't feel there is much room for improvement - Ireland can keep it's head up high."
Johnston was, however, critical of yearling incentives stating that they were a "band aid coveringa large wound" and that they are not a long term answer, as owners are fighting for money that they have already invested into the sport.
John O'Connor, managing director of Ballylinch Stud, emphasised that breeders should be breeding for "quality". O'Connor said: "It has been difficult to enforce the message of breeding quality over quantity, but in recent times people are much more focused on breeding quality and keeping the better mares.
"The poor quality horses aren't being produced any more and I think the Irish product is getting even better.
"If we concentrate on quality I would be very optimistic that Irish breeding will succeed for a number of years to come."
Read the full story on the ITBA Expo 2012 breeding and racing forum, plus what visitors and exhibitors are saying, in Sunday's Racing Post