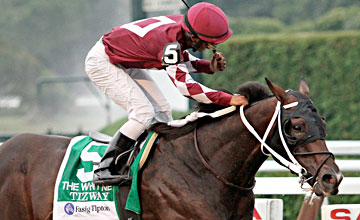 Tizway: Grade 1 winner will enter stud at Spendthrift Farm for $25,000
PICTURE:
Jessie Holmes/Equi Sport photos
Malibu Moon fee increased to $70,000
SPENDTHRIFT Farm in Kentucky has increased the fee for its flagship stallion Malibu Moon to $70,000 for the 2012 season. The son of A P Indy, who started his stud career at Country Life Farm in Maryland at a fee of $3,500 and is the sire of seven Grade 1 winners, stood the past season for $60,000.
One of the fastest growing operations in North America, B. Wayne Hughes' outfit will stand no fewer than seven new stallions in 2012 including this year's Grade 1 Whitney Handicap winner Tizway, who starts his stud career in Kentucky at a fee of $25,000.
Grade 1 Secretariat Stakes winner Paddy O'Prado will stand in Kentucky for $15,000 while Breeders' Cup Mile hero Court Vision will stand under the Spendthrift banner at Park Stud in Canada for $10,000.
Spendthrift Farm fees 2012
*Archarcharch (Kentucky): $10,000
*Court Vision (Canada): $10,000
*Dublin (New York): $7,500
Into Mischief (Kentucky): $7,500 (2010: $8,500)
Line Of David (Kentucky): $7,500 (2010: $7,500)
Malibu Moon (Kentucky): $70,000 (2010: $60,000)
My Pal Charlie (Louisiana): $3,500 (2010: $3,000)
Notional (Kentucky): $7,500 (2010: $7,500)
*Paddy O'Prado (Kentucky): $15,000
Temple City (Kentucky): $5,000 (2010: $5,000)
*Tizway (Kentucky): $25,000
Tiz Wonderful (Kentucky): $12,500(2010: $12,5000
*Victor's Cry (Canada): $5,000
Warrior's Reward (Kentucky): $15,000 (2010: $15,000)
*Wilburn (Kentucky): $6,500
* new