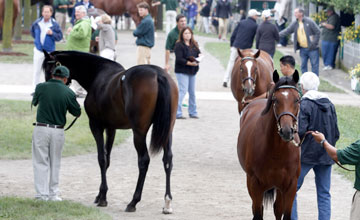 Keeneland
PICTURE:
Keeneland - Coady Photography
Major drop in numbers for Keeneland September

KEENELAND has substantially "tightened" its September Sale format in response to falling foal crops and feedback from consignors and buyers.
This year's catalogue features 3,604 yearlings - 1,852 colts, 1,750 fillies and two geldings
That compares to a 2010 catalogue of 4,318 yearlings, of which 2,230 were colts and 2,089 fillies.
As a result, Book 1, on Monday September 10, features a select sale of 132 yearlings. Book 2 will run from Tuesday September 11 to Thursday September 13, and will feature 915 yearlings (305 per day).
Those two sales will comprise a single catalogue and will be followed by a 'dark' day on Friday September 14. The remaining 2,557 yearling will be sold daily from Saturday September 15.
"We believe this schedule fits the needs of our horses and our sellers perfectly," said Keeneland vice president of sales, Walt Robertson, "The tweaks are designed to better serve our clients in terms of convenience and efficiency."
Director of sales Geoffrey Russell added: ""Very simply, the catalogue reflects the reduction in the size of the foal crop. The reduction in the size of the catalogue chiefly comes from the latter days of the sale, which is where it should come from. Breeders and consignors are to be commended for doing a very good job of breeding the right mares, and for making the difficult decision not to breed those mares that cannot produce a commercially viable foal."
Highlighting the first week's offerings will be 15 yearlings from the final crop of champion sire A.P. Indy, including nine in the opening select session.