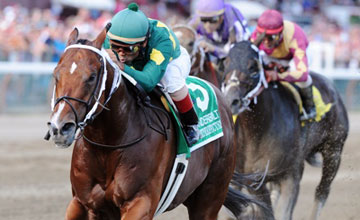 Majesticperfection: the son of Harlan's Holiday will join his sire at Airdrie
PICTURE:
ADAM COGLIANESE/NYRA
Top US sprinter Majestic to stand at Airdrie Stud
MAJESTICPERFECTION, winner of the Grade 1 Alfred G Vanderbilt Handicap at Saratoga in August, will stand at Brereton C. Jones' Airdrie Stud in Kentucky next year.
The four-year-old son of Airdrie stallion Harlan's Holiday was retired in early September.
As a two-year-old, Majesticperfection was the 2008 Ocala Breeders' Sales' second-highest-priced individual, selling for $370,000 to Padua Stables.
Trained by Steve Asmussen, Majesticperfection set a track record over 6f at Prairie Downs in the Iowa Sprint Handicap, and retired the winner of five races with only one defeat, and earnings of $310,430.
"We've long subscribed to the belief that brilliance is what makes most sires, and Majesticperfection was an absolutely brilliant racehorse," Jones said. "We've never stood a stallion with the pure speed that this horse had, and when you look at the fact that he came home in :11 [seconds] and change in those races, I don't have any doubts he could've stretched out further.
"He's been at the top of everyone's top sprinter list for the last several months and I believe he is truly deserving of the Eclipse Award. Plus, he's the kind of physical knockout that will get the commercial breeders excited as soon as they lay eyes on him."
A stud fee for Majesticperfection and all the Airdrie stallions will be announced shortly after the Breeder's Cup.