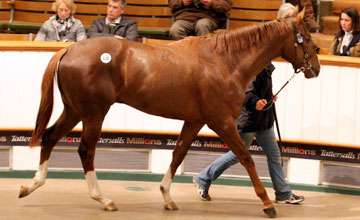 This son of Shamardal marked a memorable coup for Tally-Ho Stud
PICTURE:
Tattersalls
Mahony: overseas buyers have had positive impact

TATTERSALLS chairman Edmond Mahony has praised the "spectacular pinhooking successes" that boosted trade at the two-day Craven breeze-up auction which concluded on Thursday night.
The most eye-catching pinhook came from Tally-Ho Stud after a son of Shamardal, bought by Roger O' Callaghan for 53,000gns as a foal, was secured by John Ferguson for 500,000gns, the third highest price in the history of the Craven.
Mahony added: "Buyers from throughout the world, most notably the Gulf region and Hong Kong, have had a major
impact on the sale and we are naturally delighted that the key indicators of turnover, average, median and clearance rate have held up so well."
This year's Craven saw 117 lots (112 last year) sold for a total of 8,578,000gns (7,987,000gns) and an average of 73,316gns (71,313gns).
Mahony said it "would be wrong to pretend that all has been
plain sailing over the last two days. The market has been selective at times and served as a reminder that the continuing economic uncertainty, particularly in Europe, continues to pose challenges."