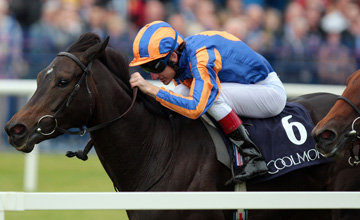 Lillie Langtry adds the Marton Stakes to her Coronation Stakes victory
PICTURE:
PATRICK MCCANN
Small breeder Lynch flies high with Langtry
THE dominant operations tend to seek safety in numbers but there is proof in Michael Tabor's leading three-year-old filly Lillie Langtry that any breeder, no matter how small, can hit the jackpot with the required work and passion.
Kevin Lynch, the breeder of Saturday's Matron Stakes winner, keeps just two mares, Hoity Toity and Maritana, at his Ballinahown Stud near Fermoy in County Cork.
Both were young, untried producers when purchased by Lynch yet today would be an asset to any valuable broodmare band as the dams of Lillie Langtry and Champagne Stakes dead-heater Close To You.
Lillie Langtry's dam Hoity Toity owns a history similar to that of Leaping Water, the dam of St Nicholas Abbey, as she was a relatively inexpensive cull by the Maktoum family; the daughter of Darshaan cost Lynch just 15,000gns through Sean O'Sullivan's Corrin Stud as an unraced three-year-old at the 2002 Tattersalls December Sale.
"I liked the fact she was by Darshaan," remembers Lynch, a tillage and dry stock farmer who started breeding with jump mares during the late 1980s. "She was young and from one of the last crops of Darshaan. We were just lucky."
From an active Gainsborough Stud family that had produced Lead On Time and Great Commotion, Hoity Toity was given every chance to flourish in her new career, visiting Montjeu and Hawk Wing during her first two seasons at stud.
Neither of the resulting foals won although both paid for the mare many times over when selling for €280,000 and 62,000gns as foals.
The Aidan O'Brien-trained Lillie Langtry is her third foal and the result of Lynch's decision to send the mare to Danehill Dancer.
"Danehill Dancer had stood just beside us at Castle Hyde Stud before moving to Coolmore so I was always aware of him," he says. "At the time, he was a stallion on the up.
"Lillie Langtry was a very powerful foal - and fiery, a trait which she got from her dam and probably Darshaan. If you fought her, you had no chance, but you were alright if you met her on her terms. She has a great spirit, which you can see by the way she has come back from the knee fracture she suffered at the Breeders' Cup last year."
Like her elder siblings, Lillie Langtry was sold as a foal, in her case for 70,000gns to Ashtown House Stud at the Tattersalls December Sale. Just under a year later, she changed hands in the same ring for 230,000gns to McKeever St Lawrence.
The Tattersalls December Sale is also the likely auction venue for the Duke Of Marmalade colt that Hoity Toity foaled this year.
"The Duke Of Marmalade colt is the nicest the mare has produced to date," says Lynch. "If I think I can sell them well as foals, I'll send them through. But if I think I have something that will appeal to trainers, I'll hang on to them and sell them as yearlings."
One such horse is the tough sprint handicapper Beaver Patrol, bred by Lynch out of Erne Project who died just ten days ago. Although that leaves Lynch with just Hoity Toity and Close To You'sdam Maritana, whom he bought from Darley, he is in no hurry to replenish his numbers.
He says: "Hoity Toity is in foal to Invincible Spirit and ideally I'd like to keep something out of her. We're lucky that we're currently at the higher end of the market but we've been down at the lower ends too. Our aim is to breed good, sound horses that trainers want to buy."
Ballinahown Stud has been under Lynch family ownership since the early 20th century, when Lynch's grandfather stood Sherwood Starr and his Irish Derby-winning son Rock Star.
Today, it also serves an agricultural purpose with Lynch and his wife, Suzanne, finding the time to work with the horses including preparing foals for thesales. The responsibility of foaling is handed to nearby Corrin Stud.
"Hoity Toity has been fantastic for us, at the sales and now with Lillie Langtry," says Lynch. "Horse racing is over so quickly so you can go from hope to disappointment very quickly. But when it happens, like it did on Saturday, it's just fantastic, a great thrill."