Liam Cashman: "A man we all looked up to"
THE bloodstock world has continued to pay its tributes to Liam Cashman, the renowned Irish breeder who died on Tuesday aged 72.
Cashman ran the Rathbarry and Glenview studs which stood leading stallions under both codes such as Proverb, Kampala, Taufan, Alzao, Barathea, and Presenting.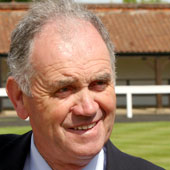 Liam Cashman:"a great judge"
PICTURE:
Mark Cranham
"Liam was a man we all looked up too - he showed what hard work and honesty could do," said Maurice Burns of Rathasker Stud. "He was a great judge of bothman and beast and had a great eye for finding a stallion that would sire tough, sound stock. His clients prospered by following his judgement."
Top trainer Dermot Weld described Cashman as "one of the most important people involved in the racing and breeding industry at all levels. He was extremely knowledgeable and a good friend. His passing is a very sad loss and my thoughts are with his family."
Likewise, agent Bobby O'Ryan described Cashman's passing as "a serious loss to the industry. He was simply a great guy, a wonderful judge of a horse and an exceptional man with stallions. He was a wonderful asset to Irish racing and was always a great help to everyone at the sales."
Cashman was also a steward for the Irish National Hunt Committee, a racecourse steward and chairman of his local point to p0int.
Michael Doyle, senior steward of the Irish National Hunt Steeplechase Committee, said: "I had great admiration for Liam, having acted as a steward with him at many race meetings in the Munster area over the years.
"He was always very fair in his judgements. I counted him as a good friend and we were looking forward to using his experience and initiative on the senior INHS panel. Sadly that won't be happening now and we are all going to miss him hugely. My sincere sympathy goes to his wife , Catherine, and his family."