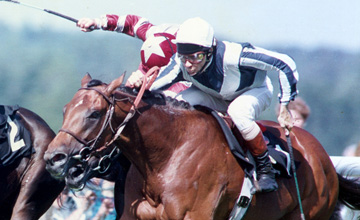 Kingmambo: judge ruled that an offer of $175,000 for a share in the stallion must be submitted to the syndicate members
PICTURE:
Racing Post
Judge rules Lane's End must report shares offer
A FEDERAL judge has ruled that offers relating to the purchase of shares in Lemon Drop Kid and Kingmambo should be submitted to the syndicate members, which could see the sales proceed.
KNC Investments, fronted by Californian owner-bred Jerry Jamgotchian, offered $350,000 for a share owned by Ashley Andrews in Lemon Drop Kid and $175,000 for one owned by Andrews and Robert Raphaelson in the recently retired Kingmambo last autumn.
Both stallions are based at Lane's End Farm in Kentucky, which filed and received a temporary restraining order on the sales after claiming that KNC had not complied to certain terms of the syndicate agreement including failure to disclose all terms and conditions of the offer.
Andrews and Raphaelson have since met that requirement, which included disclosing commissions to Jamgotchian of $50,000 for each share. Lane's End originally questioned that figure and requested that the commissions be reduced to five per cent, which would amount to $15,000 and $6,750. According to Jamgotchian, the $50,000 figure relates to other fees surrounding the shares, including legal costs.
However, judge Karen Caldwell ruled on Friday that Jamgotchian's commission was not 'unusually large' and that the restraining order be dissolved. Lane's End were ordered to present the offers to the syndicate members, who would then have the right to match them or agree to the sales.
Lemon Drop Kid is standing the 2011 season for $35,000. Kingmambo was retired last autumn due to a severe neck condition.