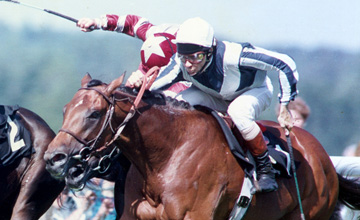 Kingmambo: an offer of $175,000 in the retired stallion was turned down
PICTURE: Racing Post

KNC successful in Lemon share purchase
A SHARE in Lemon Drop Kid worth $350,000 has been acquired by an entity represented by Californian owner Jerry Jamgotchian two weeks after it was ruled that the offers should be submitted and reviewed by members of the syndicate.
However, Jamgotchian, who is acting on behalf of KNC Investments, has not been successful in his attempt to purchase a share in pensioned stallion Kingmambo after all but one of the syndicate members matched his offer of $175,000.
Lane's End Farm in Kentucky, where both stallions are based, originally questioned Jamgotchian's role as a dual agent and contended that commissions due to him in the deal were inflated. In the Lemon Drop Kid deal, not only is the purchase figure reportedly double that of market price but Jamgotchian's commission amounts to $50,000, 17 per cent of the offer. The standard figure is five per cent.
The farm's concerns led to a lawsuit in which United States District Judge Karen Caldwell ruled that the offers made to shareholders Ashley Andrews and Robert Raphaelson in September by KNC Investments were proper. She also ruled that other syndicate members should have the right the match the offers under the terms of the syndicate agreement.