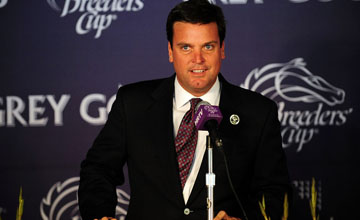 Greg Avioli is to leave his post with the Breeders' Cup
Key change at Breeders' Cup as Greg Avioli leaves
GREG AVIOLI, the president and chief executive office of the Breeders' Cup, has announced his resignation after five years in the post.
Avioli, who recently oversaw changes to the Breeders' Cup entry system which brought an end to the cross-registration agreement from the European Breeders' Fund, has been linked to a job with a gaming company run by Frank Stronach's Magnaorganisation
Confirming the news, Avioli said: "With any decision like this there is the excitement of the new challenges ahead as well as deep appreciation for the opportunity that Bill and the Breeders' Cup board have given me over the last few years. I'm very proud of the team that we've assembled and what we've been able to accomplish together."
Breeders' Cup chairman Bill Farish paid tribute to Avioli'sinput, saying: "During a time when our industry on the whole was experiencing difficult economics, Greg played an integral role in making the Breeders' Cup a stronger property and organisation. On behalf of the Breeders' Cup board, we thank Greg for his significant contributions and wish him all the best in his future endeavours."
Under Avioli's tenure, the Breeders' Cup expanded to a two-day meeting featuring 14 races.