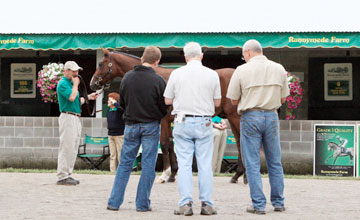 Monday's session saw the cumulative gross surpass the 2010 figure
PICTURE:
Keeneland - Coady Photography
Keeneland gross surpasses 2010 figure
CUMULATIVE sales at the Keeneland September Sale in Kentucky surpassed the entire sale gross of 2010 on Monday, an impressive feat considering the mammoth auction still has five sessions left of selling.
Monday's eighth session saw 306 yearlings sell for a total of $12,233,200, boosting the total aggregate to $198,638,200 for 1,631 yearlings sold. At last year's 14-day sale, 3,059 yearlings were sold for an aggregate of $198,254,900.

The session recorded another round of increases, with the average and median rising 48.5 per cent and 39 per cent to $39,978 and $25,000.

A daughter of Three Chimneys stallion Sky Mesa topped proceedings when selling to trainer Mark Casse for $230,000. Consigned by Judy Klosterman as agent for Langsem Farm, she is out triple winner Floral Park, a Forest Wildcat granddaughter of Grade 1 heroine Chelsey Flower.

"I just thought she was beautiful. I thought she was one of the best fillies I've seen all week long," Casse said. "It was funny. I was out yesterday looking at horses and I really wasn't looking at her but she went by and I said to my wife 'Go find out who that is.' I was excited to get her. I really wanted her."

Cash Asmussen, acting as agent for the Hong Kong Jockey Club, went to $220,000 for a Lion Heart half-brother to Grade 2 winner Sweet August Moon from Charlton.
"Wonderful horse. Great individual on the day," said Asmussen. "We were looking for horses that have a little more speed than in the past because we're concentrating on sprint or mile races. He fit the bill."
Hugo Merry, BBA Ireland, Willie Browne's Mocklershill, Brown Island Stables and Federico Barberini were among the active European buyers.
The September Sale continues through Saturday, September 24.