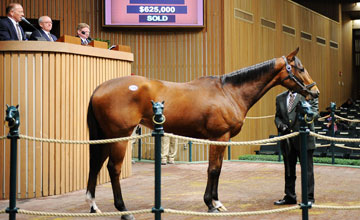 Judge Ernest Scorsone deemed the ninth Keeneland condition of sale at unconscionable on Wednesday
PICTURE:

Keeneland/Coady photography
Keeneland clause deemed unconscionable
A CLAUSE in Keeneland's conditions of sale has been deemed 'unconscionable' by a Fayette Circuit Court Judge.
As it stands, buyers have 14 days to return a horse that is two-years-old or under at the time of sale should they find evidence of invasive joint surgery that hasn't been disclosed.
Judge Ernesto Scorsone described the clause - the ninth condition of sale - as unsconscionable after reviewing the case of a Street Cry yearling purchased for $35,000 by Solitary Oak Farm from Rockwell Sales Agency, consigned on behalf of Dare To Dream Farm, at the 2008 Keeneland September Sale. When the colt was being prepped for surgery some four months later, veterinarians came across evidence that the horse had previously undergone invasive joint surgery which hadn't been disclosed at the time of sale.
The defendants, Rockwell, Dare To Dream and Keeneland, argued that the 14 day window and therefore the right to return the horse had passed.
However, Scorsone ruled on Wednesday that Solitary Oak is'entitled to summary judgement against Rockwell' as 'Rockwell failed to abide by one of two avenues of disclosure required by Keeneland's conditions of sale'.
He said the court 'limits the application to this contract of Keeneland's Conditions of Sale, specifically the 14-day limited warranty period, as it is unconscionable based on the facts of the case. This avoids an extremely unfair result of enforcing an oppressive and unfairly surprising contract on purchaser Solitary Oak.
"Given the intentional misrepresentation, it was difficult if not impossible for plaintiff to discover the defect within such a short period of time. As such, the 14-day clause shall be stricken as unconscionable to avoid an unconscionable result."
He also ruled that 'Keeneland's 14 day limit on the warranty is inconsistent with the warranty's purpose'.