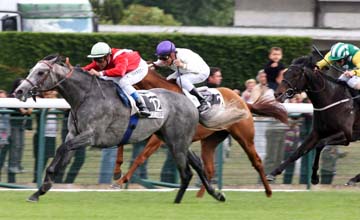 Tin Horse: the Poule d'Essai des Poulains' winner's dam will be kept
PICTURE:
scoopdyga.com
Historic Childwick Bury Stud put on market
CHILDWICK Bury Stud, near St Albans in Hertfordshire, will be put on the market next month by the Marquesa de Moratalla following her decision to reduce her bloodstock interests. A number of her mares will be dispersed at the Arqana December Sale and the remainder boarded elsewhere.
Cambridgeshire-based agent Bidwells is handling the sale of Childwick Bury Stud, which was purchased by the Marquesa in 1993 following the death of it's long-time owner Jim Joel.
"The Marquesa is looking to keep between 16 to 20 mares including Joyeuse Entrée, the dam of Tin Horse," said stud manager Martin Grassick. "They'll all stay together and we're looking at options at the moment as to where they can go."
The stud, which covers 400 acres and boasts 120 stables, owns a rich history. Foundedon the Childwick Bury estate by Sir John Blundell Maple in 1888, it passed into the hands of Jack Joel in 1906 and then in 1940 to his son, Jim, who owned the distinction of having his colours carried by the winners of the Derby (Royal Palace, 1967) and Grand National (Maori Venture, 1987)
A total of 16 Classic winners were bred at the stud during the Joel era, including Royal Palace and Fairy Footsteps, while during the early 20th century it was also home to leading sires Sundridge and his Derby-winning son Sunstar. The pair were buried at the stud as was the Marquesa de Moratella's top-class chaser The Fellow.
More recently, the stud hit the heights when the Marquesa's homebred Tin Horse won the Poule d'Essai desPoulains at Longchamp.