Rare American foal for Japanese-based Conduit
WHAT is thought to be the only foal by Breeders' Cup winner Conduit born outside of Japan has been delivered at the Runnymede Farm in Kentucky.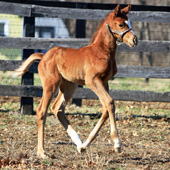 Josette filly
PICTURE:
Michele MacDonald/Full Stride Communications
This chestnut filly was delivered on February 24 and isout of Josette, a black-type producing Danehill mare that Runnymede owns in partnership with Peter Callahan. "She is a very attractive, well-conformed bundle of energy who bears a strong resemblance to her sire," said Runnymede vice president Martin O'Dowd. "She is one of a kind and we have high expectations."
Conduit, who stands at Shigeyuki Okada's Big Red Farm on the island of Hokkaido in Japan, won the 2008 and 2009 runnings of the Breeders'Cup Turf at Santa Anita Park. He also won the King George VI and Queen Elizabeth II Stakes and the St Leger.
Josette was bred to Conduit in his first season at stud. Big Red Farm has confirmed that Runnymede's foal is the only one expected to be born outside Japan this year. "I was an admirer of Conduit when he raced and loved him when I went to see him at Big Red Farm," O'Dowd said of the son of Dalakhani.