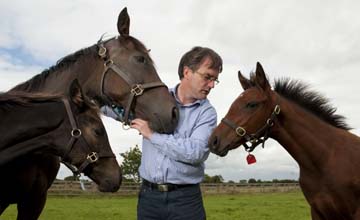 John Osborne, chief executive of the Irish National Stud
PICTURE:
Edward Whitaker (racingpost.com/photos)
Report calls for sale of Irish National Stud

An influential report has recommended that the state-owned Irish National Stud be sold off.
The shock call was made by economist Colm McCarthy, who was asked to investigate the possible disposal of a number of state assets ranging from transport and energy companies to horseracing and bloodstock identities.
Although concluding that the Irish National Stud was solvent, the McCarthy report said: "There is a limit to how long the company can continue to trade at a loss" as it has it did for seven out of eight years between 2002 and 2009.
Irish National Stud chief executive John Osborne vowed to fight for the stud's future and argued that the current economic conditions would prevent it from selling for an optimum price.
Read more in Thursday's Racing Post - download the NEW digital newspaper from 3am or buy it as a PDF from 9am