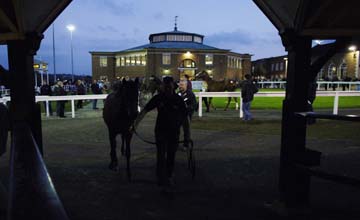 Tattersalls: yearlings will be subjected to testing for corticosteroids
PICTURE:
Edward Whitaker / racingpostpix.com
Tattersalls to test for steroids for first time
TATTERSALLS will introduce testing for steroids on yearlings for the first time at this autumn's sales.
It has contacted vendors of all yearlings to confirm that their horses "will be subject" to testing for corticosteroids, which can stay in a horse's system for up to 42 days, and are used to suppress inflammation in joints and aid the healing process.
One leading British vet said it was "not unknown" for vendors of yearlings to treat minor injuries with corticosteroids so as not to affect a sales price.
He said: "This is a big change and it could have a huge effect. How big a deal it will be we won't know until we get there, but there could well be some yearlings who don't make half of what they would have done had these rules not been changed.
"It's inevitable that yearlings will pick up all sorts of minor knocks and bangs and it is debatable what effect those little things would have on performance in the long term.
"You can't blame vendors for playing within the rules, especially if you have a yearling that you expect to make100,000gns but has a little bang to its fetlock weeks before a sale. It could end up making half that price."
The post-sale tests would cost purchasers £240 plus VAT and a
positive test would allow them rightof return. Tattersalls already tests for non steroidal anti-inflammatory drugs.
"Corticosteroids were added to the list of prohibited substances following consultation with our vets," said Tattersalls marketing director Jimmy George. "They advised us that corticosteroids could be used for similar purposes as the non-steroidal anti-inflammatories that we already test for."
A well-known Tattersalls consignor said that the use of corticosteroids had been "potentially open to abuse" for
treating lameness, bone chips and osteochondrosis (lesions in joints).
What are corticosteroids?
Corticosteroids are hormones produced naturally within the adrenal cortex or synthetically.
They are used to treat swelling or inflammation and can be used in topical creams/ointments and intra-muscular or intravenous injections. They are most commonly administered to yearlings by means of a joint injection.
The two most commonly used drugs are triamcinolone (traded as Adcortyl in Britain), which has a much shorter withdrawal period than the other, methylprednisolone (known as Depo-Medrone in Britain).
The last-named is the substance Noverre tested positive to when
disqualified from the 2001 French 2,000 Guineas.