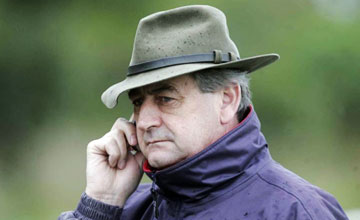 Noel Meade: spoke at lively debate at the ITBA's Expo 2012
PICTURE:
Caroline Norris
Meade warns against too many NH filly incentives
TRAINER Noel Meade has argued that increasing the number of races available for National Hunt mares would dilute the quality of racing.
His statement was made during the hotly debated subject of 'how to make jumps fillies more popular' at the Irish Thoroughbred Breeders' Association Expo 2012 at Leopardstown racecourse.
Meade said : "You have to look at the bigger picture.There are more than enough races at the present time and anyway would racegoers and racecourses be interested in these races?
"These fillies are the over flow from the boom time - it should eventually level out because the number of horses going into training will continue to fall and production levels are on the decline."
Breeders are finding it increasingly difficult to sell National Hunt fillies, the Tattersalls Ireland Derby Sale last year posted an average of €16,886 for fillies and €35,195 for colts and geldings, but Meade believes there isn't a lot that can be done.
For more from Meade and others on the debate, plus other news from the Expo in Saturday and Sunday's Racing Post. Liveupdates will appear on this website.