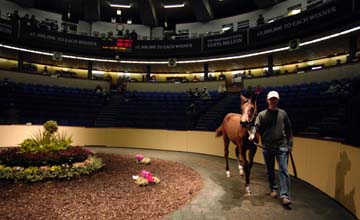 Sales rebounded by nearly 0.7 per cent in Ireland last year
PICTURE:
Edward Whitaker (racingpost.com/photos)
Irish bloodstock sales up by 0.7 per cent in 2010
A SLIGHT increase in the combined turnover at all Irish bloodstock sales in 2010 provides a rare ray of hope in yearly statistics measuring the health of the country's racing and breeding industry released on Tuesday by Horse Racing Ireland.
Bloodstock sales at public auction were up by 0.7 per cent from 2009 to €68 million, suggesting that a decline in trade since the bloodstock boom of the mid 2000's was levelling off.
That statistic, plus those showing that racecourse attendance was the same as in 2009 and that point to point fixtures were up by 1.9 per cent, were among few reasons for cheer.
The report's key findings - including alarming drops in the total number of horses in training and number of new owners (down by almost half since 2007) - are shown in the table below.
They come soon after the Racing Post revealed last week that the Irish foal crop has fallen by 39 per cent in three years.
Brian Kavanagh: "not a recovery"
PICTURE:
Patrick McCann
Horse Racing Ireland chief executive Brian Kavanagh said: "2008 was the first year of contraction in the industry in 15 years and the decline in attendances and bloodstock sales, key markers of the health of the business, accelerated in 2009.
"I welcome any sign of those trends tailing off. However, this is by no means a recovery, but a positive indication that racing can work its way through the challenges."
Prize-money in Ireland in 2010 was also markedly down, by 13 per cent from 2009 to €46 million.
Horse Racing Ireland pointed out that €3.96m of the €5.5m drop in the total value of Flat races in 2010 was due to the discontinuation of the lucrative Goffs Million races (worth €3.2m) and a significant reduction in the values of the five Classics and Irish Champion Stakes, where the combined prize money fell by €760,000.
The cessation of the two Goffs Sales races also accounted for a significant portion of the reduction in the overall race sponsorship of €2.5m.
Kavanagh continued: "Reduced prize-money due to reduced funding has a negative knock-on effect throughout the industry. 2010 brought a realisation by all parties that online and telephone betting must be levied on an equal basis with the high street shops to ensure a meaningful return to racing.
"The commitment to introduce that levy has been made by Government and HRI urges progress towards its implementation, to give racing the means to drive real recovery and secure jobs throughout the rural economy."
2010 IRISH THOROUGHBRED RACING INDUSTRY STATISTICS

| | |
| --- | --- |
| No. of fixtures (inc. NI) | Down 3.2% from 345 to 334 |
| No. of cancelled fixtures | Down 13.2% from 38 to 33 |
| No. of races | Down 2.6% from 2,444 to 2,381 |
| No. of entries | Down 23.5% from 94,673 to 72,459 |
| Eliminations | Down 48% from 21,928 to 11,356 |
| Total no. of runners | Down 8% from 33,240 to 30,590 |
| No. of individual runners | Down 6% from 8,543 to 8,027 |
| No. of individual winners | Down 3.1% from 1,782 to 1,726 |
| No. of individual placed horses | Down 3.7% from 4,103 to 3,951 |
| Total prize-money | Down 13% from €52.9m to €46m |
| >National Hunt p-m | Down 5.7% from €24.6m to €23.2m |
| >Flat p-m | Down 19.4% from €28.3m to €22.8m |
| Total race sponsorship | Down 33.3% from €7.5m to €5m |
| Total race sponsorship (excl. sales races) | Down 16.7% from €6m to €5m |
| Total attendances (inc. NI) | Down 3.2% from 1,237,171 to 1,197,654 |
| Average attendance | No change, 3,586 in 2009 & 2010 |
| Total betting | Down 10%from €181.8m to €163.6m |
| >Tote betting | Down 4% from €47.8m to €45.9m |
| >On-course bookmakers | Down 11.9% from €121.9m to €107.4m |
| >On-course SP shops | Down 14.9% from €12.1m to €10.3m |
| Total no. of owners | Down 8.6% from 5,107 to 4,667 |
| No. of new owners | Down 13.1% from 894 to 776 |
| Total no. of horses in training | Down 4.3% from 11,638 to 11,136 |
| Ave. no. of horses in training | Down 11% from 6,483 to 5,769 |
| Bloodstock sales at public auction | Up 0.7% from €67.5m to €68m |
| Point to point fixtures | Up 1.9% from 108to 110 |
| Point to point races | Down 11.3% from 923 to 820 |
source: Horse Racing Ireland