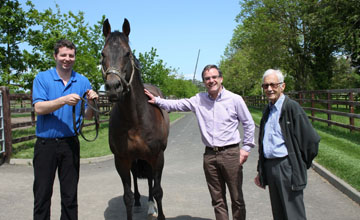 Lester Piggott (right) inspects Invincible Spirit, who is led out by Paul Croke (left) under the guidance of chief executive John Osborne (second right)
PICTURE:
Irish National Stud
Irish National Stud plays host to Lester Piggott
LEGENDARY jockey Lester Piggott paid a visit to the Irish National Stud in County Kildare on Monday.
He is pictured on the right with the operation's flagship sire Invincible Spirit, stallion handler Paul Croke (left) and chief executive John Osborne (second right).
Invincible Spirit is the sire of 55 stakes winners, six of them at the highest level, including Fleeting Spirit, Lawman and Moonlight Cloud.
Piggott has enjoyed some success as a breeder, notably with Norfolk Stakes, Weatherby Super Sprint and Flying Childers Stakes winner Superstar Leo, whom he co-bred with Tony Hirschfeld.