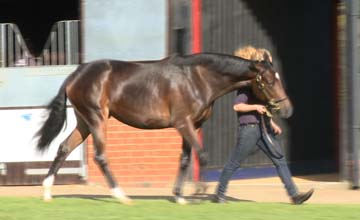 Could yearlings soon be offered at auction in London?
PICTURE:
SAM LAWRIE
'Huge support' for special London sale from vendor
AN English vendor of yearlings who attended Cape Town's first city yearling sale strongly believes that a London sale in a similar mould to the sale in Cape Town is both workable and desirable.
Brendan Boyle, manager of Ashbrittle Stud, voiced his views following an article in Sunday's Racing Post by leading consignor Ted Voute, who also backs the idea.
Boyle said: "I'm a huge supporter of the idea. I've rung Ted Voute already. Having a sale in the city would work really well for the industry as a whole. Some of the sales companies aren't that keen on it but if enough people get on the bandwagon they'll have to take notice.
"You've got to bring the product to the buyer. If you get an owner to the sale you might get a few more bids on the horse than you would over the phone. You could even have it in London one year, Paris the next.
"It took 13 months for it to get from an idea to up and running in South Africa. It's about getting sales companies to think outside the box. I think that the younger members of the industry are keen to see it happen"
Regarding the practicalities of such a sale in London, Boyle considers arranging stabling a small obstacle. "It's easy", he said. "Look how many horses get to Olympia every year [for the London International Horse Show]."
Read more in Tuesday's Racing Post - download the NEW digital newspaper from 3am or buy it as a PDF from 9am